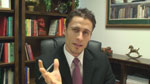 Controversy! Should Hypnotists Be Licensed & How Many Hours Should Be Required for Certification?
Elronn is back! So now, Elronn and I can tackle this new series of controversial hypnosis and hypnotherapy topics starting with this episode of Hypnosis, Etc. Please tell your friends about this free hypnosis training video here on www.CalBanyan.com.
Now, let me start things off by saying that some people might not agree with us and sometimes we don't agree with each other as we bring this discussion of the following controversial topics. The good thing is that this is all open to discussion, leave a comment below and be heard!
REMEMBER: National Guild of Hypnotist's Solid Gold Weekend is going to be in Anaheim California, February 26 and 27, 2011!

You can get more details at www.NGH.net (more info coming).
I am going to be presenting on the topic of mastering hypnotic age regression and hypnotherapy.
Use this link to register, https://www.ngh.net/forms/solidgold.aspx.
Here are some of the topics we discuss:
Should Hypnotherapists and Hypnotists be licensed?

What is the minimum number of hours of training that should be required in order to be certified?
Here are some more links related to the show:

Get instant access
to 150+ of my hypnosis
training programs free!
Keep in touch and get THE latest insider info about this program: