Welcome to this episode of Cal Banyan's Hypnosis, Etc free online hypnosis training video here on www.CalBanyan.com.
Is it Okay to Learn Different Hypnosis Techniques from Different Schools? And More!
This is another "All-Cal" episode, which gives me a chance to talk directly to you about some of my favorite topics, hypnosis and staying in shape. So, I talk about remaining in a constant state of self-improvement, or as I call it, "evolution".
I also "spill the beans" on my old secret project, and let you in on my own health secret and that of course, is Isagenix. Call us right away to see how you can benefit like I have been. Maureen and I will explain it all and coach you through it. Call us at 469-969-2176 or 800-965-3390.
Did you know that Dave Elman was one of the greatest hypnotists of all time? I've been talking with his son, Larry Elman and I'm hoping to have him on the show. Here are some of the photos that he sent me of his dad.
Click them to see an enlargement.
Your hypnosis question answered:
Is it okay for me to learn and practice additional hypnotherapeutic techniques other than what I learned in my original hypnosis certification course?

How can I instantly get better results? (Hint, "All you need is love" and "Praise".)
REMEMBER: National Guild of Hypnotist's Solid Gold Weekend is going to be in Anaheim California, February 26 and 27, 2011!
You can get more details at www.NGH.net (more info coming).

I am going to be presenting on the topic of mastering hypnotic age regression and hypnotherapy.
Use this link to register, https://www.ngh.net/forms/solidgold.aspx.
Training Materials Mentioned in this Episode: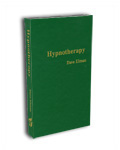 Hypnotherapy by Dave Elman
This book is a beautiful work of hypnosis and hypnotherapy art, a true masterpiece! This is a true classic in the field. Get it and read it. Then read it again in six months and you will be surprised at how much more you can learn from the Master.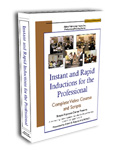 Instant & Rapid Inductions for the Professional
You can be more effective using these inductions by creating the kind of levels of hypnosis the pros create in just two minutes using the modernized version of the Elman induction or even faster using these very fast rapid and instant inductions.
Here are some more links related to the show:

Get instant access
to 150+ of my hypnosis
training programs free!
Keep in touch and get THE latest insider info about this program: