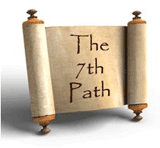 Special Video for 7th Path Self-Hypnosis® Teachers and Practitioners, Q & A Part 2
This is Part 2 in a special and highly requested video series made just for our 7th Path Teachers and Practitioners around the world.
Welcome back to Part 2. If you have not yet seen Part 1, go there now and watch that video first.
Like I said in the previous post, those of you who have not been introduced to 7th Path Self-Hypnosis® let me say a few words about it. You will benefit from knowing the following before you watch this video series:
"7th Path" is a very special kind of self-hypnosis that came to me in a very inspired way. It is special for many reasons and here are but a few.
7th Path is the very first mind-body-spirit form of self-hypnosis which was designed to be an ascension technique. When used properly, it will raise your awareness mentally, emotionally and spiritually.
7th Path is also the very first insight driven self-hypnosis program, which enables it to function at a much higher level than any previous form of self-hypnosis. This ability to cause change through insight, enables the practitioner to experience permanent positive enlightened change.
7th Path is the first "anti-virus system" for the human mind. It works to remove old programs that have been accidentally installed in your subconscious mind, which are getting you off track, slowing down your progress in life and generally, causing you chronic unnecessary stress. This kind of stress is extremely unhealthy.
Eliminating this chronic debilitating stress is one of the healthiest things that you can do.
Finally, the ultimate goal of using 7th Path is to help you live the life your soul wants you to live, the life you came into this existence to live. It is a liberating practice that frees you from every negative program or emotion within you, which is holding you back from that goal.
To all "7th Pathers", you will be pleased to know that we have now setup up a place on www.The7thPath.com where you can have continual and easy access to them. Please tell all your 7th Pather friends.
And, now here are some of the questions answered in this program:
How long should I wait for the "Echo"?

How do I know if I'm doing 7th Path Self-Hypnosis® correctly?

How do I separate my self-talk from the "Echo"?

What if all my "Echo's" are only negative?

How do I know I am ready to learn another Recognition, or a longer form?

What if I have a thought or "Echo" while I'm still saying a Recognition?

How deep in hypnosis do I need to be in order to do 7th Path Self-Hypnosis correctly?

Why should I spend the same amount of time on all the Recognitions that I know, rather than just focusing on one or two?

Why do you say that "7th Path doesn't heal anything" when I've seen so many healing's experienced when practicing 7th Path Self-Hypnosis®?

How long does one have to practice 7th Path Self-Hypnosis® before I become a teacher?

Can we teach 7th Path Self-Hypnosis over the phone?

How can I learn the Ultimate Recognitions as a practitioner or teacher?

Do all students get a 7th Path Self-Hypnosis® student booklet?

If I have the Full Form or Ultimate Form of the Recognitions, should I use them or can I just use the Short Forms?

If a teacher is only able to teach the Short Forms of the Recognitions to a particular student (because of time restrictions) should he or she do so?

What are the various ways to teach 7th Path Self-Hypnosis®?

How would you lead a 7th Path Community in the group practice of the Recognitions when each participant has a different number of Recognitions?
I intend to create more of these videos in the future to help keep you all informed, answer your questions and get you the latest news about 7th Path. I'm not sure if I will post them here on www.CalBanyan.com or not. It will depend on the response that I get to these videos. I will, however, always post them on www.The7thPath.com for you.
One last note, like I mentioned last time, I am going to give a workshop at the National Guild of Hypnotists Convention in August 2010, in which I will be teaching the first two Recognitions in a two hour workshop. If you are going to the NGH convention and do not yet have the first two Recognitions or know someone who has been wanting to get them, please pass this along.
For more information about this, and the other workshops I will be giving at the 2010 NGH convention, click here… Cal Banyan's Hypnosis Workshops at the NGH Convention. To learn more about how to learn 7th Path go to www.CalBanyan.com.