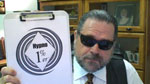 Age Progression Work
Alright all you Hypno-1%ers™ and Hypno-1%ers™ in training, here is another free hypnosis training video on www.CalBanyan.com.
I am pleased to announce that Meredith is back with me in the episode of Cal Banyan's Hypnosis Etc.. Welcome back Meredith! I have a surprise for Meredith in this episode because she has been my co-host for over a year now. She has the dedication and commitment to the hypnosis profession to be a true Hypno-1%er™.
Imagine, she is on this show for free. She does it all for you! What a gal!
On this "show" we discuss Age Regression repeatedly in our videos because it is very important in 5-PATH®. However, there is a very powerful tool that I want to remind everyone about and it is called Age Progression. I think you are going to like this a lot! You are going to see so many ways in which Age Progression work can help your clients. This one is really going to get you thinking!
It's all explained in the video so check it out and leave a comment below to let me know what you think. (We work for comments! Come on, give us some more "comment love" will ya?)
Here is some of what we discuss in this episode:
The Importance of the FRE (Future Re-Enforcing Event) process.

How many future events do I like to take my clients through to get results?

How to use "previvification" to add power to all your sessions and more!
Live courses: Complete course schedule here.

NGH Approved Banyan Hypnosis/Hypnotherapy Certification Super Course.
Week of Power – Advanced Hypnotherapy Training.
Hypnosis Certification Distance Learning Course.
Big News: New Easy Payment Plan for Live Classes – Details Here!
Distance learning courses:

The 5-PATH® 2.0 – Advanced Hypnosis Training DVD Set
Banyan Hypnosis Certification Distance Learning Course… HALF OFF
Yes, you can also learn live online over the internet. (Not a video course.)
Links related to the show:
Let's keep in touch! We can connect in these ways…
Follow me on twitter! www.Twitter.com/calbanyan
Become a member of our facebook page at www.Facebook.com/hypnosisetc!
Friend me on Google Buzz, www.google.com/profiles/calbanyan.
Hypnosis pros network, www.ourhypnospace.com/calbanyan.