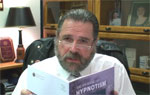 Q & A: What Does Being Hypnotized Feel Like? How Do You Handle Transference? And More!
It's a beautiful sunny Friday in Orange County, CA and I have another free hypnosis training video on www.CalBanyan.com. Now that's dedication!
In this weeks' episode of Cal Banyan Hypnosis Etc., I tell Elronn why he should commit to going to the NGH convention being held in Marlborough, Massachusetts in August.
Most importantly, Elronn and I answer more of your very interesting questions about hypnosis and hypnotherapy.
If you have a hypnotherapy question that you need answered, leave a comment below or make a post in the "Ask Cal" group on OurHypnoSpace.com.
Here are some of your questions that we answer in this episode:
What do you do when your potential client says they had seen a hypnotist before but they didn't feel hypnotized?

How do you handle transference with a client?

What do you do when a client comes in who doesn't believe that what was uncovered in the previous session was accurate or true?

Are you going to join me at the NGH convention this year? I am conducting a few seminars that you are for sure not going to want to miss! Make sure to contact the NGH at www.NGH.net to secure your seat so that you don't get left out of any of my programs like so many did last year, and the year before!
Here are the 1 and 2 hour seminars:
Mastering Age Regression By Mastering The Initial Sensitizing Event – How to Find, Confirm & Neutralize The Cause (Free – 1 hour).

The Mind-Body-Spirit Journey of 7th Path Self-Hypnosis® Begins – Receive the First Two Recognitions of "Love & Renewal" (2 hours).
Then of course there is the huge pre/post-convention certification program…
The Week of Power Certification Course with 5-PATH® and 7th Path Self-Hypnosis®.

7 Days of Hypno-1%er information that will transform your hypnosis practice!
Here are some links related to the show:

Take your hypnosis practice to the next level. Do this by taking a Banyan hypnosis certification course.
That is it for this weeks' free hypnosis training video. Remember to leave your comments below. We love your feedback, questions and comments.
Let's keep in touch! We can connect in these ways…