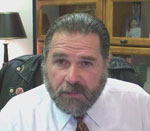 Q & A: When is it Okay to Work on Grief? And, The Value of Age Regression
It's another episode of Cal Banyan's Hypnosis Etc. with Elronn Fergusson. This is our weekly free hypnosis training video here on www.CalBanyan.com.
In this weeks' episode, we answer more of your hypnosis and hypnotherapy questions. If you want your question answered, leave a comment below!
Here are some of the questions answered in this video:
When is it okay to work on grief?

Isn't grief a healthy process that people need to go through?

What do you do when your client questions the value of age regression?

And More.

For the 5-PATHer who wants to master weight loss sessions, the How to Conduct a Weight Loss Session Using 5-PATH® CD set is what you need.
Links related to the show:

Enter into the profession of hypnotherapy, or take your hypnosis practice to the next level by taking a Banyan hypnosis certification course.
That is it for this weeks' free hypnosis training. Remember to leave your comments below. We love your feedback, questions and comments.
Let's keep in touch! We can connect in these ways…
Follow me on twitter! www.Twitter.com/calbanyan
Become a member of our facebook page at www.Facebook.com/hypnosisetc!
Friend me on Google Buzz, www.google.com/profiles/calbanyan.
Hypnosis pros network, www.ourhypnospace.com/calbanyan.