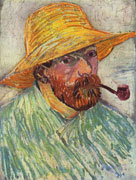 "Hypnotizing" Van Gogh, a Pseudo Case History Part 6
Here we go again with another free hypnosis training video on www.CalBanyan.com. I guess that means it's Friday. 😀
This episode of Cal Banyan's Hypnosis Etc. is another super sized episode where we bring you the conclusion to our series entitled "Hypnotizing Van Gogh, a Pseudo Case History". I really want to thank Elronn for taking the time out of his busy schedule of seeing clients to help me with this series. Both Elronn and I are really happy that we were able to provide all this information to everyone… for free! If this series has peaked your interest in 5-PATH® then you may want to check out my hypnosis and hypnotherapy certification course, I also have an advanced course for hypnotists who are already certified but want to be the best of the best.
I want to remind you that since its the holiday's, I am giving everyone a gift. The gift of free hypnosis training! Click here to watch my Instant & Rapid Inductions for the Professional DVD set for free. I also have the first two audio discs of my Turn Your Hypnosis Practice into a Gold Mine audio CD set there too.
Here we go. Lights, camera, hypno time machine, action!
After a quick recap of Van Gogh's previous "session", we discuss the following:
Hallucinating and its role in 5-PATH®.

Does Vincent need another session?

Do we need to do Phase V: Secondary Gain with Vincent and how do we decide?

What do we mean by a "Criteria Based Approach"?

We find out what the "self" and "still wanting to make mistakes" part have in common?

And more!
Here are some links that relate to the show:
Okay, that's it for this week. Once again, thank you all for viewing the hypnosis training video and thank you for viewing the entire series. Please leave a comment or question below.