Answering Your Questions Live – Working with Drugs, Alcohol, & More
Welcome to another downloadable hypnosis training video, episode #117 of, Cal Banyan's Hypnosis, Etc. with Meredith Locher. Again we bring you another fun and informative hypnosis training video dedicated to answering your questions about hypnosis, with live questions from you, our hypno-audience! Keep sending your questions for this hypnosis training podcast by going to the Ask Cal, group on www.OurHypnoSpace.com.
Here are some quick hypnosis related announcements!
Enroll in the upcoming NGH Approved Banyan Hypnosis/Hypnotherapy Certification Super Courses taught by Cal Banyan coming up in July and October, 2009. Save money with early enrollment.
ACT NOW: First ever, 7th Path Teachers Training Course to be conducted during the pre-convention days at the NGH Convention in August, 2009. This is going to be an unbelievable life-changing experience for everyone involved! 7th Path Self-Hypnosis® is a revolutionary mind-body-spirit approach to self transformation. Information (PDF). Register now online.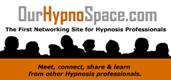 Join the first networking site for hypnosis professionals, www.OurHypnoSpace.com! New groups, including the Hypnotism Outreach Group and more. Join now and become part of the discussion, sharing and professional development.
Here are the questions we take on this episode:
1. When I take on an "alcoholic" client should I schedule them for more than once a week? Plus, a discussion on how many sessions are useful with clients in general, and why we should keep them to a minimum, but more than one.
2. When working with clients who are abusing alcohol or drugs, should I insist that they are abstinent when I start seeing them for sessions?
3. Do most alcohol and drug clients "wean off" or do they just stop "cold turkey"?
4. When conducting an age regression session with the affect bridge, how do I bring up the feeling to go to the cause of the problem (the ISE) when they can only identify "feeling" like they want to drink? Obviously, this is not the feeling associated with the cause of the problem.

Do you want to join us for our next live streaming recording sessions? Then, make sure you keep checking back. We will announce the date and time very soon! Join us and make the Hypnosis, Etc. program better than ever!!!
More Important Links & Announcements:
Tell your friends about our hypnosis training videos, after all, they are free!
Leave a comment about the program… We LOVE comments!!! 😀