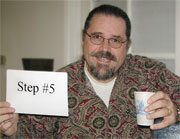 Hi everyone. I hope you enjoyed my video about Step #4. It was the first time I ever posted a video to my blog, and it worked out very nicely, and so now I plan on posting more videos in the future. So watch for some video blogging in the future.
Well, I have had a great time covering the first 4 steps with you, and I want you all to remember that everything that I am doing as part of my weight loss program is motivated by my daily practice of 7th Path Self-Hypnosis®. Using self-hypnosis makes it much easier to do the exercise like I want to, eat like I need to eat to be successful, and to keep a very positive attitude about the whole thing.
It struck me kind of strangely the other day when I was talking with a client (who happens to be a hypnotherapist) , he had been following this topic on my blog and he asked me why I am not using hypnosis as an important part of my weight loss program. Well, I was a bit confused really. I told him that I am, it is really the "hub" of the whole thing making the rest of the steps work so well. He said that he needed to reread my posts on my blog at www.CalBanyan.com and I had to agree. As a result, I decided I needed to make sure I mention that hypnosis is playing an important part of the entire program in each post that I am writing in this series. So, there you go. 🙂
Now let's get on to talking more about Step #5. Here is what I have written about it in my previous post…
"Step #5: Drinking Water for Healthy Weight Loss – I will drink a minimum of 100 ounces of water each day. I can drink more water of course, but this is more water than I am drinking now, and I know that committing to drinking at least this minimum amount will be healthy and assist in the natural detoxification that goes along with a good weight loss program."
Just about anytime that you do any research on weight loss you will read something about how drinking some minimum amount of water should be part of any safe and sane weight loss program. However, experts often disagree on how much water one should drink for maximum health and weight loss results.
Right now my goal is 100 ounces of water a day. I might change the amount along the way as I continue to progress in my results and as I learn more about how much water is recommended by different experts. Here are a couple of links to some different resources that suggest drinking water for healthy weight loss. Do a search on Google for "drinking water for weight loss" or a similar search string and you will find many, many more.
Personally, I like the idea of drinking more water. Heck, it is easier than a lot of other things that we do to lose weight, like meal planning, or exercising. All I have to do is just swap out some of those cups of coffee or cans of Diet Cokes for water, and lose weight! And, best of all, it is simple and healthy.
I know that for some people change can be difficult, but making simple changes like these are "a piece of cake" for those of us who know how to use self-hypnosis. So far, I have learned one thing about "upping" my water intake though; I have to stop drinking so much water so late at night, because if I don't watch it I am up 3 or 4 times during the night to go to the bathroom. 🙂 So now I am making sure that I get all the water I need at least 2 hours before I go to bed. Take it from me, that helps a lot.
Keep your comments coming in, and consider making water and hypnosis part of your and your client's weight loss programs!
Oh, and one last thing, remember that when you exercise, do so safely. We all take on a level of personal responsibility whenever we exercise, whether we are walking, riding a bike, rollerblading, or riding a new fangled gadget like my Trikke T8. So be careful, and enjoy the time that you are dedicating to your new lifestyle and increased quality of life.
Visit my other sites: www.HypnosisCenter.com and www.BanyanHypnosisMall.com.