Description
Hypnosis Office Business Start Up Pack 2.1
---
This newly expanded "2.1 edition" shows you exactly what you need to know to set up and run a successful hypnosis center in a step-by-step video tutorial.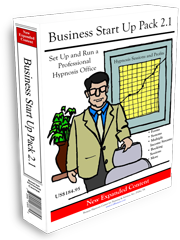 Watch this Introductory Video to Learn More About This Video Program
Cal Banyan explains the original Business Start-Up Pack. New and improved Hypnosis Office Business Start-Up Pack 2.1 includes all of this and much more. Please see below.
Need to know more? Scroll Down below to learn more!