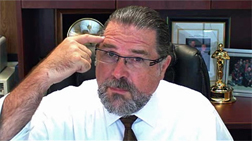 How to Manage Your Hypnotic Age Regression Sessions for Success
Happy Hypno-Tuesday! Cal's new co-host is back on this special episode of Hypnosis Etc. on www.CalBanyan.com. Let us know what you think. Do you think that if we keep her, we should name her?
In this latest Hypnosis Etc. episode, I begin by answering this viewer's question, "What am I doing wrong when clients do not come back after doing age regression work?"
Watch this hypnosis training video and you will learn some additional insider tips, tricks and techniques about how to handle various issues that come up when doing hypnotic age regression work, such as when you cannot identify the Initial Sensitizing Event (ISE), when the client is unable to find the emotion, and much more…
REMEMBER – If you are interested in getting hypnosis and hypnotherapy entered into a college curriculum, and you are a professor, or administrator, and you want help, contact me. I want to help.

Thank you for helping us get to 1,000 fans on our Facebook page! Thank you so much for taking the time to help us to reach another milestone. Continue to follow us on Facebook as we keep you up-to-date with what's going on between each episode and get input from you as well. If you haven't done so already, check us out and "Like" us on www.facebook.com/hypnosisetc. Thanks a whole lot for sharing us with your friends as well!
Cal Answers Viewer's Question:
What am I doing wrong when clients do not come back after doing age regression work?
Additional Discussion Points:
Why direct suggestion alone is not as powerful as age regression.
How to manage age regression sessions when you cannot identify the ISE.
Why it is important to do a "segue" from insight work to direct suggestion.
You absolutely have to end your hypnotherapy sessions on a high note, where you have accomplished something for the client.
How to handle a client who cannot find the emotion during Affect Bridge Age Regression or Time Tunneling.
How to use The Secret Language of Feelings to identify what the client is feeling when doing age regression.
What do you think of having a computer as a hypnotist?
Hot Links: Links Mentioned in this Podcast, Etc.

Our program is on iTunes. Available on audio and video. Got an iPhone or iPad? Subscribe to this podcast and download our programs automatically.
Get Professional Hypnosis / Hypnotherapy Training – With early registration discounts available.

Also remember to stay in touch and on the inside by becoming part of our VIP Program, and by "Liking" our facebook page at www.facebook.com/hypnosisetc.
Click the "BE a VIP" button for FREE INSTANT ACCESS
Get a super easy linked list of all Hypnosis, Etc. training videos!
There is no better way to get started accessing all these videos.
VIP Membership is free – Click Now!