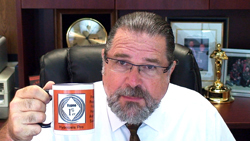 Hypnosis Tips about Affirmations and Hypnotic Suggestions, Pro Bono Hypnosis Sessions, and Much More
Happy Hypno-Tuesday! On this special episode of Hypnosis Etc. on www.CalBanyan.com, Cal has a brand new co-host. How exciting!
In this latest Hypnosis Etc. episode, I begin by discussing how amazing this year's NGH Annual Convention was and how NGH Members can join NGHNetwork.com, the new social networking website for NGH members only.
Next, I introduce my brand new "co-host" … Guess who? It's not Celeste, Elronn or Meredith. AND, should I keep using her from time to time? Leave a comment and let me know what you think.
Watch this video and you will learn some helpful tips, tricks and techniques about a variety of hypnosis topics, including affirmation and hypnotic suggestions, pro bono hypnosis sessions, and much more…

Hey one quick thing, if you want to get a great looking mug/cup like I have in the video, or a whole bunch of other cool promotional items, go to the Banyan Hypnosis Store on Zazzle. AND, if you have some ideas that you would like to see in our store leave a comment.

Here is a link to the Hypnotic Seashore with Music CDs that we use.


Help us to reach 1,000 fans! And, at the same time you can become a hypnosis insider by following us on Facebook! We post about what is going on between each episode and get input from you as well. Check us out and "Like Us" on www.facebook.com/hypnosisetc. Thanks a whole lot!
Today's Discussion Points:
Can my computer be a co-host on the show?
What's the difference between affirmations and hypnotic suggestions?
What kind of background music should hypnotists use in their sessions?
Should you do hypnosis sessions pro bono?
Should I continue with advanced techniques (such as age regression, etc.) when direct suggestion alone seems to have fixed the problem?
Hot Links: Links Mentioned in this Podcast, Etc.

Our program is on iTunes. Available on audio and video. Got an iPhone or iPad? Subscribe to this podcast and download our programs automatically.
Get Professional Hypnosis / Hypnotherapy Training – With early registration discounts available.

Also remember to stay in touch and on the inside by becoming part of our VIP Program, and by "Liking" our facebook page at www.facebook.com/hypnosisetc.
Click the "BE a VIP" button for FREE INSTANT ACCESS
Get a super easy linked list of all Hypnosis, Etc. training videos!
There is no better way to get started accessing all these videos.
VIP Membership is free – Click Now!