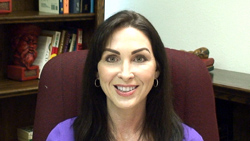 Avoiding Small Mistakes in Wording Leads to Successful Age Regression Work & More
Happy Hypno-Friday! Once again, Meredith is my co-host on this entertaining and informative episode of Hypnosis Etc. on www.CalBanyan.com. In this latest episode, we review the insider secrets on how to do successful age regression work. We dive into this 5-PATHer's question, "What to do if the client does not immediately regress to childhood when doing age regression work?"
Watch this hypnosis training video and Cal will show you some tips, tricks, and techniques on how to do a successful age regression session, determine whether your client is in somnambulism, and find all the important places to visit during an age regression session as you work your way back to the all-important Initial Sensitizing Event.
Thanks for visiting my hypnosis training videos website. If you enjoyed these videos, please tell your friends about this helpful resource for hypnotists and hypnotherapists around the world. Remember to check out our Hypnosis, Etc. page on Facebook, at www.facebook.com/hypnosisetc. Please "Like" us on Facebook and below this video and get into the conversation.
Today's Discussion Points:
Tips on how to prepare your client for a successful age regression session.
Why you should not suggest that they "go to the first time" they felt this way.
How the Elman-Banyan Hypnotic Induction's covert tests take the guess work out of determining whether your client is in somnambulism.
The five questions you must ask your client at every event visited in time.
How to bring up the emotion associated with the problem for Affect Bridge Age Regression.
Hot Links: Links Mentioned in this Podcast, Etc.
Weekly Special:

5-PATH® 2.0 Hypnosis Training Program
Join Cal Banyan, award-winning hypnosis and hypnotherapy trainer, as he teaches you and demonstrates how to do 5-PATH® Hypnotherapy.
For this week only, save 20% when you order 5-PATH® 2.0.

Get Your Professional National Guild of Hypnotists Approved Hypnosis and Hypnotherapy Certification – Early registration discounts available.
Be a VIP – Keep in touch and get THE latest insider info about this program:

Also remember to stay in touch and on the inside by becoming part of our VIP Program, and by "Liking" our facebook page at www.facebook.com/hypnosisetc. By joining our free VIP Program you get instant access to the complete listing of all our free hypnosis training videos that you can watch any time.