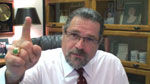 Controversy! Should Hypnotists Fulfill Prerequisites Before Certification, Like a Psych Test? And, More…
Happy Hypno Friday everyone! Welcome to another free hypnosis training video here on www.CalBanyan.com.
In this episode of Cal Banyan's Hypnosis Etc, Elronn and I continue our series of controversial hypnosis topics. What do you think, leave a comment below and let us know.
Here are some of the topics we discuss:
Should there be prerequisites in order to become a hypnotherapist?

Should there eventually be REAL degrees in hypnosis and hypnotherapy?

If there was a degree in hypnosis, what would happen to the people who are already hypnotists and hypnotherapists?

Should there be a psychological evaluation before you can become a hypnotist?
Here are some more links related to the show:
REMEMBER: National Guild of Hypnotist's Solid Gold Weekend is going to be in Anaheim California, February 26 and 27, 2011!

You can get more details at www.NGH.net (more info coming).
I am going to be presenting on the topic of mastering hypnotic age regression and hypnotherapy.
Use this link to register, https://www.ngh.net/forms/solidgold.aspx.

Get instant access
to 150+ of my hypnosis
training programs free!
Keep in touch and get THE latest insider info about this program: