Ten Keys for Successful Age Regression Work
I just love Fridays! And, of course, that means we get to post another Cal Banyan's Hypnosis, Etc., with Meredith Locher, hypnosis and hypnotherapy training video program!
Today, we start a whole new video training series on age regression entitled, Ten Keys for Successful Age Regression Work. I expect that this series will take up about 5 or 6 episodes, so keep checking back and tell your hypno-friends!
Click player below to Play Audio-Only Version
Before we get into the serious stuff, we talk a bit about Meredith's dog and now she is considering doing some EFT with him. See link below to learn more about EFT. Leave comments below to let us know what you think about that!
Okay, now on to business… Here is the graphic that Meredith and I refer to in the show, Understanding Age Regression.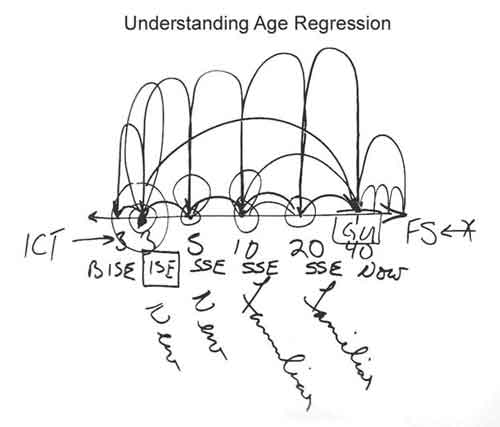 Key for Abbreviations on the Understanding of Age Regression Graphic:
ISE: Initial Sensitizing Event
SSE: Subsequent Sensitizing Event
BISE: Before Initial Sensitizing Even
ICT: Informed Child Technique
GU: Grown Up
FS: Future Self
We get things rolling with an explanation of what age regression (AR) really is. Then, we go into how it can be used to help our clients. We also talk about how the Affect Bridge Technique is so useful, and some of the other age regression techniques that you will want to know about. We also talk about when you should use AR.
I also give some insider tips, tricks and techniques related to AR, which will help you to see why it is such an important hypnotic change technique. Here is a hint, AR done properly can lead to permanent change for our clients because it is an insight technique.
Getting Started with the Ten Keys for Successful Age Regression Work
After doing a quick overview of the entire AR process, Meredith and I start going through the Ten Keys step by step.
1. Successful Hypnotic Age Regression Key #1: Proper client preparation, induction, deepening and testing. Here we discuss how client preparation, testing and convincing (Phase I of 5-PATH®) is so important to your success. Since I have covered this information in great detail in two previous series on the topic, I'll just provide you the links to those videos.
Ten Keys to Doing Direct Suggestion Right
Ten Keys to Client Preparation for Successful Hypnosis:
2. Successful Hypnotic Age Regression Key #2: Using the correct type of AR:
Affect Bridge, Symptom Bridge, Cognitive Bridge, Somatic Bridge and Date/Time Bridge.
When to start with one type of "bridge" and switch to another kind (another insider tip, trick and technique for the hypnosis pro).
Meredith gives a great example of how and when to start off with Date/Time Bridge AR and switching to Affect Bridge.
Next week, we will continue to go through the keys. I expect that we will average about 2 or 3 keys to doing successful age regression work per week.
Links and Hypnosis Resources Discussed in this Episode:
Go to www.OurHypnoSpace.com and get involved in the 2.0 version of this active community of hypnosis professionals. While you are there join the "Ask Cal" group so that you can leave questions there to be answered on the show.
Learn about EFT by going to www.emofree.com.
Visit Meredith's website at www.yourpathhypnosis.com.
Go to www.HypnosisCenter.com to see my training schedule.
Go to www.Hypnosis.ORG and get on our directory of hypnosis professionals.
Go to www.CalBanyan.com if you are not already there to see all our hypnosis videos.
So, how did you like the show? Let us know by posting a comment below!