"7th Path" & How to Get Doctors to Refer Their Patients to You
Welcome to another Cal Banyan's Hypnosis, Etc. with Meredith Locher! In this hypnosis training podcast we cover lots of new hypnosis info. I also give you some information about what I am going to be doing at the National Guild of Hypnotists convention coming in August, 2009.
In this episode I also talk about 7th Path Self-Hypnosis® and how it works. Meredith and I both give examples of how we have seen "7th Path" work for her and for others.
We also get into a discussion about the "Diathesis-Stress Model" and how hypnosis (especially 7th Path Self-Hypnosis®) can facilitate healing on the physical, emotional, and mental levels.
Next we get to learn a bit more about Meredith's private life… The photo below just about sums it up!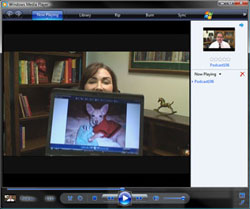 "The luckiest dog in the world."
Finally, I get to answer a question about how to get doctors referrals for our hypnosis practice.
Build your practice with doctors and psychologists referrals.

Teach doctors and psychologists how to send clients your way.

Find out which patients are most likely to be referred to you.

How to get permission from your clients to approach their doctor or psychologist.

How to get a doctor "referral" when the doctor is reluctant to refer a patient to you.
Links to hypnosis resources mentioned in this episode of:
Okay, that is it for now. Send us your questions, and leave us a comment below. We really appreciate it!