National Guild of Hypnotists Convention Video Clips with Celeste Hackett & Kelsey Banyan
We just got back from the National Guild of Hypnotists Convention! Wow, I had a great time teaching some hypnosis workshops and visiting with my hypno-friends. This year was especially great because Celeste was there for the first time. AND, since I had her there I put her to work! I'll tell you more about that later…
First off, let me make a couple of announcements & then we have a long video for you today!
I've got two courses coming up:
Banyan NGH Super Course, October 6-10 & 13-17, 2008.

The Week of Power, November 16-22, 2008.

Check our complete course schedule (including the Banyan courses taught by our CPHIs at many different locations) on www.Hypnosis.ORG.
Subscribe to Cal Banyan's Podcasts with iTunes – Click Hypnosis Podcast
Learn more about these hypnotists who appeared in the video! (Links to go articles, products and courses produced by these pros!)
Wil Horton – NLP

Ron Eslinger – Hypnosis for Pain Management & More

Roy Hunter – Great Books, Article, and Videos on Hypnosis

Jerry Valley – Entertaining Audios, Videos & Articles on Stage Hypnotism & More

Cal Banyan – Informing Soul Technique and More
We all had a wonderful time on the Thursday night before the convention at our Annual 5-PATHers Class Reunion and Award Banquet.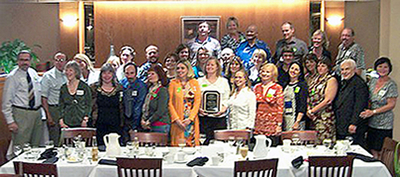 Congratulations to the award recipients this year. I had the honor of giving out awards to four people!
First were the 5-PATHers!
5-PATHer of the Year – Jessica Karas

7th Path™ Teacher of the Year – Lynda Malerstein (Featured in Podcast #35)

CPHI of the Year – Peggy Kelly (holding her award in the photo above).
Jerry Valley was our guest of honor this year, and it was my pleasure to present him with the 5-PATHers, Lifetime Achievement Award (an award presented by the 5-PATH® Assoc. to recognize an individual's lifetime of accomplishments in the profession of hypnotism).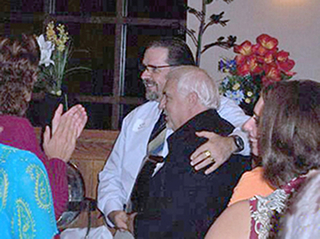 Jerry Valley & me holding his award.
I was also honored this year by the National Guild of Hypnotists by receiving the President's Award! Thank you NGH and Dr. Dwight Damon.
Did a whole bunch of secret project stuff – lots of comments about my slimmer bod. To learn more about how I am becoming slimmer, and how my secret project can add a steady income source to your practice, email me at CalBanyan@HypnosisCenter.com.
Celeste and Kelsey roamed the NGH Convention and got some video! (See more of Kelsey in podcasts 58 and 59).
Remember to visit www.Hypnosis.ORG to get the good stuff hypnosis professionals want, and to get yourself in our Hypnosis Directory. Also, remember to get your free account in www.OurHypnoSpace.com where you can get a blog and network with other hypnosis professionals.
Enjoy the video!