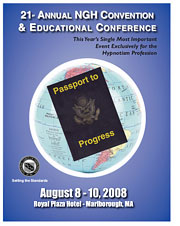 HOT – HOT – HOT! Hypnosis News You Want to Know!
The National Guild of Hypnotists Convention Catalog has just been printed and available for download.
Check it out. There are over 180 seminars included in the price of the convention!
Download this huge hypnosis course catalog now and start planning to attend the world's largest and friendliest hypnosis convention!
I'll be teaching these classes at the convention!
Advanced Hypnosis for Weight Loss – Go Beyond the Script for Maximum Results

Insider Secrets to a Thriving Hypnosis Practice
Classes can fill up fast, so call the NGH, (603) 429-9438.
Also remember to join us on the call with Dr. Dwight Damon the President of the NGH. Here is the information that you will need to join in on the call: Conference Number: 1-712-421-8837, Passcode: 24220#. On Friday, 05-09-08 at 12:00 noon (Pacific Time).