Description
The Secret Language of Feelings
---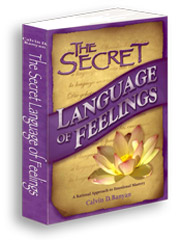 Take back control of your life with this revolutionary new approach to self-understanding, self-healing and self-improvement. All feelings are good! Even anger, sadness, guilt, and depression...The book reveals the healthy side of emotion that leads to success and personal fulfillment
Or Call: (469) 969-2176 or 800-965-3390
Also available in eBook formats:


Click the images to go to the store
Watch this Introductory Video to Learn More About This Book
Need to know more?
Scroll Down below to learn more!
---
Take back control of your life with this revolutionary new approach to self-understanding, self-healing and self-improvement. All feelings are good! Even anger, sadness, guilt, and depression...This book reveals the healthy side of emotion that leads to success and personal fulfillment.
The Secret Language of Feelings™ is a revelation unparalleled by any previous self-help publication in this area. This new book will provide you with some of the most valuable information available today about your inner life, your emotions and all of the powerful feelings that have made you feel bad.
All Feelings Are Good! Even Anger, Sadness, Guilt, and Depression...
The Secret Language Reveals The Healthy Side of Emotion That Leads To Success and Personal Fulfillment
What you will learn:
How to stop coping with emotions and really satisfy them.
How to instantly reduce or eliminate anger, stress, depression & more.
How to find out what you really want in life.
How to understand others so well they will think you are psychic.
How to stop feeling bad for feeling "bad" and start feeling better now!
Click on the pages below to enlarge. Links open in a new window.