Description
THE NEW 5-PATH® 3.0 Hypnosis & Hypnotherapy Video Training Program
---
NEW and UPDATED! More than 2 Times the Information!
Full of Professional 5-PATH® Training Videos From A LIVE Course
All Streamable to Your Device with Manuals & Handouts
Now you don't have to travel to learn these advanced techniques from this master training in their most up-to-date form! Optional certification available!
Join this award-winning hypnosis and hypnotherapy authority and certified instructor as he reveals how it is really done, step by step!
Order this program, study it, and become an expert in Age Regression Work, Forgiveness Work, and Parts Mediation Work. Become one of the Top 1%, the best of the best in the profession when you master these skills.
Get Convenient Worldclass Training In Your Home or Office
At last, you can train in your home or office in this powerful hypnotic process that is revolutionizing how professionals are doing hypnosis!
Clients come from all over the world to experience how we do hypnosis. We are well known for our systematic and very effective way of doing hypnosis and hypnotherapy.
Get This NEW 5-PATH® 3.0 "Masterpiece"
This has been called Cal Banyan's "masterpiece". It is the most up- to-date and advanced distance learning course produced by this award winning master trainer to-date.
Hypnotists and those seeking to become hypnosis professionals have come from all around the world to train with Calvin Banyan, MA, Board Certified Hypnotist and Master Certified Professional Hypnosis Instructor to learn his techniques because of the universal system of 5-PATH® and because of the many innovations contained in the system.
Learn the MOST Up-to-Date Advanced Techniques
Programming your clients for success using inductions designed to take them into deep hypnosis (somnambulism).
Learn the Universal Hypnosis Script and Confidence Script and use them for 95% of the issues you see.
How to use covert testing and convincers.
How to do Age Regression Work and the Informed Child Technique.
How to use Age Progression to program your clients for success.
How to supercharge direct suggestion by using insight hypnosis.
How to create powerful change by doing Hypnotic Forgiveness Work.
How to end internal conflict and secondary gain with Parts Mediation Work.
Discover how to use the very powerful and innovative "segue" and "hypersuggestibility".
Hypnotic demonstrations with students in class!
Demonstration of how it works with a video recording of a real client.
Exercise booklet so that you can practice along with the class.
How to succeed when other helping professionals including hypnotherapists fail!
Efficient and Effective Training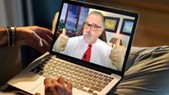 With this NEW distance learning program, you are in control. You can review anything discussed or demonstrated immediately! Rewind the video as many times as you want to make sure that you get what is being discussed and review the material later whenever you want.
This program is so good, even the students that take this live onsite training buy it so that they can "take Cal home" with them!
With this program you can really master the material presented in class because you can go over it as thoroughly as you wish, making sure that you get it right before you go on.
You will also get the Class Manual containing all of the handouts.
You also learn how to sharpen your hypnosis skills when the course is done!
Optional Certification in 5-PATH® Available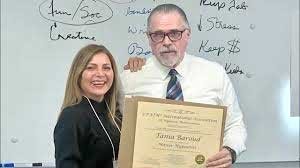 This course comes with an optional exam. If you decide to take the exam you can send it to us for grading along with a small testing fee.
When you pass you will receive an 11 by 14 certificate indicating that you have been certified as a 5-PATH® Certified Hypnotist Professional (CHP).
Free When You Get Certification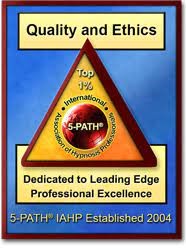 Membership on our online support group
E-Mail support
Telephone support
Free listing in our Hypnotist Directory so that you can get clients who want to work with a 5-PATH® Hypnotist.
Ongoing live video conferences on Zoom with Cal Banyan!
*Note that becoming certified as a 5-PATH® Hypnotist requires that you pass an exam and that you have a previous certification as a hypnotist through a nationally recognized hypnosis organization such as the National Guild of Hypnotists. Call us to see if your previous certification qualifies. 
If you don't have previous hypnosis or hypnotherapy certification, we suggest that you take the complete certification course with Cal live in our classroom or online.

However, you do not need to meet these qualifications to purchase and study this program for educational purposes only.
Everything You Need Accompanies this Distance Learning Course
This professional hypnosis training program comes complete with all of the handouts from class.
The two manuals are filled with hypnosis scripts and outlines that you can use right away.
Get the NEW latest edition of the practice booklet that provides you with confidence and skill building exercises!
Cal Banyan Is a Recognized Expert In the Profession - Here is a partial list of his accomplishments:
BS & MA in Psychology from University of North Dakota.
Full time hypnosis professional since 1996.
Member of the National Guild of Hypnotists since 1996.
NGH Certified Instructor since 1999.
Writer for the NGH Journal of Hypnotism since 2000.
Published, Hypnosis and Hypnotherapy (book, 2001).
NGH Board Certified since 2001.
NGH Certified Instructor of the Year 2002.
NGH Certified Instructor of the Year 2003.
NGH Educator of the Year 2003.
Fellow of the National Guild of Hypnotists 2004.
NGH Inducted into the Order of the Braid Council since 2005.
NGH Charles Tebbetts Award 2005.
Cover & Interview, NGH Journal of Hypnotism, June 2005.
Member of the NGH Advisory Board since 2006.
Member of the NGH Ethics Board, 2007 to 2018.
NGH President's Award, 2008.
Hypnotism Media Award of the Year 2010
Diplomate of the National Guild of Hypnotism since 2010
NGH Rexford L. North Award 2012
Published, Real Hypnosis Business Success (book, 2013)
Designed and implemented the 5-PATH® IAHP Professional Accreditation Program, 2015
Accredited by the 5-PATH® International Association of Hypnosis Professionals (IAHP) since 2016
NGH Ormond McGill Award, Best-of-the-best Convention Presenters, 2016
Created the 5-PATH® IAHP Professional Certification to Conduct Online Sessions Course, 2019
Created the 5-PATH® International Association of Hypnosis Professionals Board Certification Program, 2022.
Created and leads the 5-PATH® International Association of Hypnosis Professionals Mastermind Supervision Group since 2023.
Look at what the students who were in this live course said about it!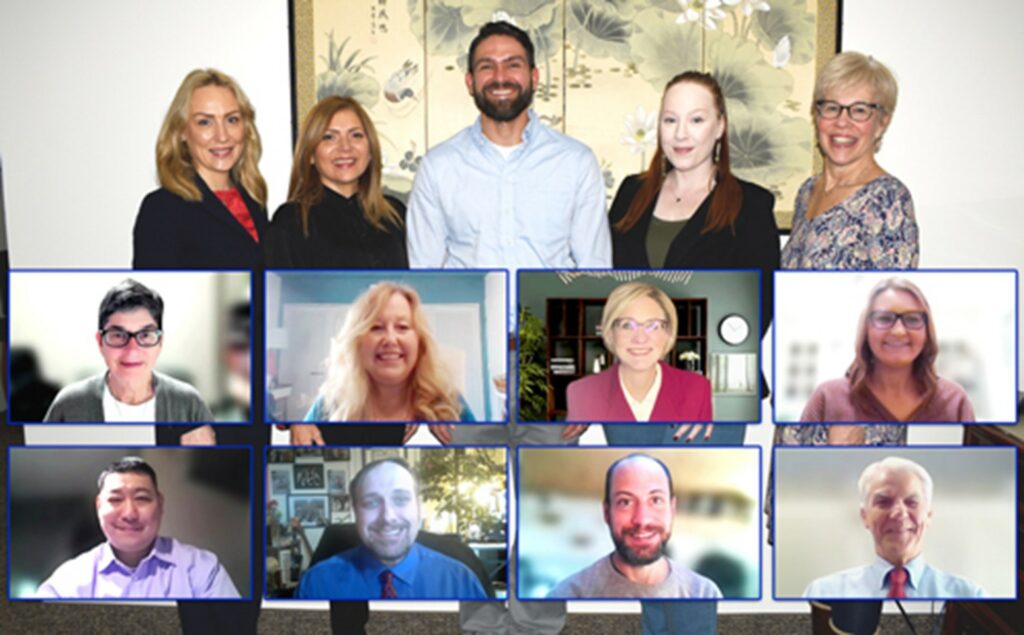 What drove me to this class above all others is Cal Banyan. His passion and enthusiasm for his calling in Hypnosis is what drew me to him. But his systematic logic and innovation caused me to stay. I am knowledgeable of the helping professions, I have been in talk therapy, in many ways and I have personally studied world religions, meditation, visualization and affirmations for years. I took a coaching course and loved it. At the same time, it felt like talk therapy in many ways and I feel my logical side was looking for a process, a system, something tangible that was not me just talking. I wanted to learn something that I could then own and possess other than my own innate intuition and compassion. This is where Cal excels. Criteria-based, systematic, universal, and spiritual if need be. This class was all of that and more. It took a lot to get here, I at first wished I had found him earlier in my life, but I truly believe I have found the way to attend this class and learn these insight processes at the perfect time in my life, and the breakthroughs experienced during this week felt like my whole like has led me to this week, these people and my soul. They need us.

- Victoria Antil, CHP, Lakewood, OH
---
* I would like to put it in a short and simple way – I see my life as BEFORE & AFTER the course.

* This course transformed me from labelling myself as "misfit," misunderstood, crazy weird and all the other names to say the least.

* Now I know, that there always was a reason to be that "misfit" and my peace came to me.

* I 'm celebrating my re-birth now and there is so much more to learn, to teach…  I want to be the North Star for those who are willing to look for it.

- Rasa Black, BA, CHP, Norfolk, UK
---
I cannot describe how powerful and life changing this course was for me. So much was happening for everyone. Emotions came up that I was not aware I had, learning to forgive others, including myself and understand that everything I went through, every experience I had, was a learning process to get me here to this class with Cal. Cal Banyan is the most amazing master teacher with so much wisdom to heal almost every human being!

Thank you Cal for this great, pure energy and light experience and growth. I love you all.

- Tania Baroud, CHP, Tripoli, Lebanon
---
This course is jam packed full of really useful information, tapping into Cal's expertise and years of experience, was very insightful. He has a system, step by step, which has been very effective in assisting clients. Very grateful for an exhausting, challenging and rewarding week. Thank you!

- Elizabeth Morrisroe, MBA, CHP, Barrington, RI
---
This process is how "we" transition from the Age of Punishment to the Age of Knowing.

- Jared Osborn, CHP, Grapevine, TX
---
This course is incredible! 5-PATH gives you the tools to guide your clients to whatever goal they may have in mind. It is taught in a manner that ensures you will remember what you learn. Upon graduation you become part of a network of experienced 5-PATHers who are quick to respond to any question you might have. I don't care who you are, this experience will make your life better. I highly recommend it!

- Jim Barnett, CHP, Pasadena, TX
---
This course was amazing! It was entertaining, educational, challenging and life changing. I would highly recommend it.

- Susan Pilon, LCSW, CHP, Sayville, NY
---
Cal's course on 5-PATH® is JAM-PACKED with a perfect balance of educational training and practical application. I left with a knowledge, a new-found connection to my path and spirituality, and the confidence to help others experience their own transformation. I 'm so thankful to Cal, Maureen, Tasha, and the 5-PATH community. I feel supported and inspired. PRICELESS!

- RaeAnn Rosario, CHP, Lindenhurst, NY
---
This class has been transformational. The group experience is always such a powerful teacher. I am listening with a student's ear to how it is done while simultaneously experiencing shifts that were ready to happen.

It was a great experience and anyone that is reading this … it is an invaluable experience. All week long I've been telling my husband how happy I am that I listened to my gut and signed up.

- Helenita Jacobs, CHP, E. Wenatchee, WA
---
Cal's class is the best investment I have made in myself and my family.

- John Ferree, CHP, Arizona
---
I greatly enjoyed Cal's amazing 5-PATH course. I've been to so many different courses over the years, thousands of seminars and workshops, multiple hypnosis certification courses, including Clinical, Pain & Stress, Ericksonian, NLP, and I can honestly say that I loved Cal's course 1000%, his enthusiasm, knowledge, techniques, and Insights. … I've learned so much in this short amount of time and want to learn more and more. I look forward to downloading Cal's subconscious database into my own subconscious database (by watching his videos), and help others enjoy life with his amazing experience and insights ????

Thank you, Cal, Maureen, and Tasha for the amazing experience, friendship, suggestions, and allowing me to be part of your growing family ???? You all are the best and I look forward to helping grow our 5-PATH family, saving and improving lives, and making a difference in our Universe. To boldly go where no Hypnotist has gone before ????

- David Shaun Ezzell, CHP, Rocky Top, TN
---
Overview Of the 5-PATH® System of Hypnosis & Hypnotherapy

Preparation, Testing and Convincing Phase The purpose of this phase is many fold, but Phase I, is designed to accomplish these main goals: bring the client to a point where he or she is reliably hypnotizable and able to consistently reach an appropriate level for hypnosis, improve his or her confidence that hypnosis will be useful, and bring about some immediate results so that the client will be motivated to continue in hypnosis.

In order to accomplish these goals, the client is carefully prepared for the first session by educating the client regarding the hypnosis process. Suggestions to be used are authorized by the client in advance. Then an appropriate hypnotic induction is used. Depth of hypnosis is tested using a hidden test. Any additional deepening may be done to obtain an appropriate level of hypnosis, usually somnambulism. After the level of hypnosis has been tested, another test is given so the client will be aware of and that he or she knows he or she has become hypnotized. Then the agreed-upon suggestions are given. The client is then emerged from hypnosis and receives at least two additional tests/convincers for post hypnotic suggestibility, such as time distortion and sensitivity to a color.
Age Regression and Age Progression  This phase of the hypnosis process utilizes one of the most powerful techniques available to the professional hypnotist. But many hypnotists don't feel comfortable using this extremely useful and versatile hypnotic technique because of past difficulties in attempting it. Or some fear of using it because of lack of training.

Because the client has experienced the first phase of the 5-PATH® system, he or she is now more hypnotizable than before. The first phase has greatly increased the probability of success of the client having a life changing age regression session.

Typically, age regression is directed at both uncovering and neutralizing the initial sensitizing event which started the problem, and also, the client is able to gain insight into the issue. Appropriately accomplished, this is one of the most powerful techniques a hypnotist can use. Then additional suggestions for change are given because this will cause a reorganization of the subconscious mind, at which time they will become hyper-suggestible for suggestions that are consistent with the insight obtained during the age regression and age progression work done in this phase.
Forgiveness of Others In the previous phase, age regression, it removes trauma and erroneous programming from the past. It also improves your client's insight. Forgiveness work then removes connections to old behaviors. The old patterns are held together by emotional connections of guilt and anger. These emotions act like glue holding the old patterns together. Remove the emotional connections and the patterns are easily removed.

Forgiveness of Others' Work is based upon the work of Fritz Pearls.  Many talk therapists have used this "chair therapy". It is a difficult technique to utilize when the client is in the normal "waking" state of consciousness, and results are limited. But in hypnosis, as some enlightened 5-PATH® Hypnotists have learned, the work can be done much more effectively. To the client, the person in the other chair is really there and the communication that goes on, that leads to forgiveness is very real.
Forgiveness of Self In the fourth phase, this approach is continued but the person to be forgiven is the Self. During this phase the client gains insight to an appropriate level of responsibility for the issue and forgives him or herself. This is an extremely powerful part of the process. Some of our 5-PATH® Certified Hypnosis Professionals actually believe that the previous three phases are just there to get to this point! Of course, that is not the case, but the session is so powerful that it often seems that way.
Parts Mediation Work Most of our clients don't need to go through this phase of hypnosis. It is a special phase that was specifically designed to address secondary gain issues. All psychotherapists are familiar with the phenomena of secondary gain. In this case the cause of the issue has been addressed (removed) but on occasion the problem may continue. Secondary gain issues are caused by environmental conditions that continue to reinforce and thus produce the problem or behavior.

For example, a drug user may go back to using drugs because of the desire to once again be accepted by the group of drug users that he or she was previously associated with. Another common issue sustained by secondary gain is that of chronic pain. Even after the pain has been controlled through the use of hypnosis (or medications), the pain may reoccur if the client lost something else substantial when the pain was controlled; for example, disability payments, family sympathy, and being excused from undesirable work or chores.

Parts Mediation Work was developed by Cal Banyan from mediation techniques used by individuals that settle disputes between individuals. Similar techniques are used intra-psychically in this phase to help the client reach a win-win situation that relieves the client from the complaint and moves him or her toward a healthier way of fulfilling needs, wants and desires.
THE MOST COMPLETE TRAINING SYSTEM ON THE PLANET STREAMING TO YOUR DEVICES – ANY TIME AT YOUR CONVENIENCE
DVDs are dead just like the old video cassettes and VCR. We want to watch what we want when we want and where we want. That is why this program is completely streamable. You have nothing to download ever!
Just login and go to your training materials library and then you can watch the video on your Internet connected TV, PC, Mac, phone or tablet!
---
More Feedback about Cal Banyan's Training!
Very good course. Cal is an expert. The training made sense and was concise. The training filled in the blanks, meaning it supplemented my previous training.
Very good job.
Victor Cooper, Certified Hypnotherapist
---
This class provides powerful, effective tools that work toward healing emotional issues and making behavioral changes. It was very professional and thorough ...
Julie House, MA, Certified Hypnotherapist
Very informative and interesting. The 5-PATH® program is truly extraordinary in its power to bring about change. Each technique is clearly demonstrated and taught, preparing the future practitioner to be an effective hypnotherapist.
Bill Howard, BA, MA, Certified Hypnotherapist
---
This course is very thorough. I learned a lot more than I had anticipated.
Tracy Holwagner, BS, Certified Hypnotherapist
The training was more than I expected! I have never felt more ready to practice Hypnotherapy in my life. Thank you!
Bob Brownlee, Certified Hypnotherapist
---
Real Licensed School with Over 25 Years In Business

Location: 275 W. Campbell Road, Suite 245
North Dallas, Texas 75080
469-969-2176 or 800-965-3390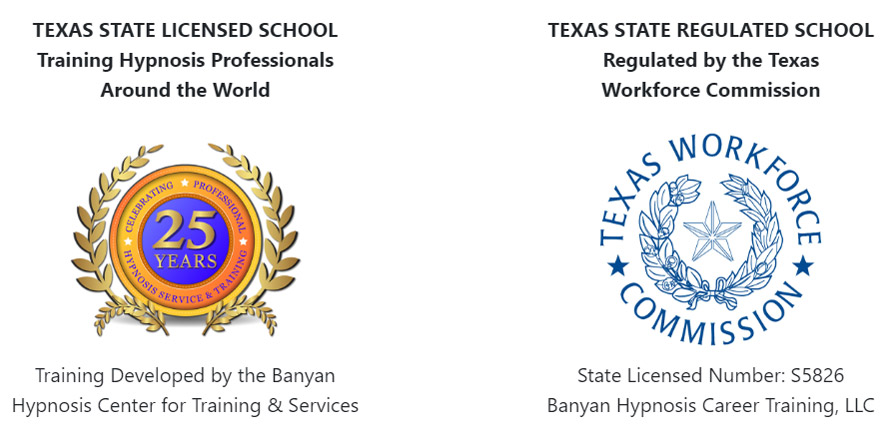 All hypnotists who have basic skills in hypnosis will benefit from this course. It was designed to help these professionals move their skills up to the next level so that they can master some of the most powerful tools available to the hypnosis professional, including Age Regression Work, Forgiveness Work, Parts Mediation Work, Rapid Inductions, Convincers and Covert Depth Testing. All of this and more are contained in the very powerful and reliable 5-PATH® System.