$250 OFF on 5-PATH® 2.0 DVD -
Hypnosis Training DVD Set
---
COVID-19 SPECIAL - Will End Without Notice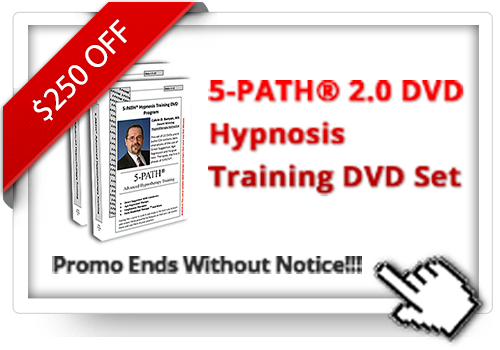 Join Cal Banyan, award-winning hypnosis and hypnotherapy trainer, as he teaches you and demonstrates how to do 5-PATH® hypnotherapy.
This material is no longer available for purchase
Watch this Introductory Video to Learn More About this product
---
NEW and UPDATED! More than 2 Times the Information!
20 DVDs Full of Professional 5-PATH® Training 4 Audio CDs Special Topics 1 CD with Manuals & Handouts
Join this award-winning hypnotism & hypnosis trainer as he explains how it is really done, step by step!
This program will make you become an expert in Age Regression Work, Forgiveness Work, and Parts Mediation Work.
Become a 1%er, the best of the best in the profession when you master these skills.
Convenient Training In Your Home or Office
At last, you can train in your home or office in this powerful hypnotic process that is revolutionizing how professionals are doing hypnosis!
Clients come from all over the world to experience how we do hypnosis. We are well known for our systematic and very effective way of doing hypnosis.
5-PATH® 2.0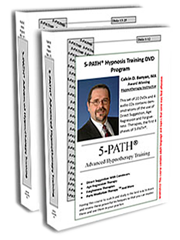 This has been called Cal Banyan's master piece. It is the most up- to-date and advanced distance learning course produced by this award winning master trainer to-date. Hypnotists have come from all around the world to train with Calvin Banyan, MA, BCH, CI to learn his techniques after reading his #1 hypnosis book.
---
Learn Up-to-Date Advanced Techniques
Programming your clients for success using inductions designed to take them into deep hypnosis (somnambulism)
Learn the Universal Hypnosis Script and use it for 90% of the issues you see
How to use covert testing and convincers
How to do Age Regression Work and the Informed Child Technique
How to use Age Progression to program your clients for success
How to supercharge direct suggestion by using insight work
How to create powerful change by doing Forgiveness Work
How to end internal conflict and secondary gain with Parts Mediation Work
Efficient and Effective Training
With this NEW distance learning program you are in control. You can review anything discussed or demonstrated immediately! Rewind the video as many times as you want to make sure that you get what is being discussed and review the material later whenever you want.
This program is so good, even the students that take this live onsite training, buy it so that they can "take Cal home" with them!
With this program you can really master the material presented in class because you can go over it as thoroughly as you wish, making sure that you get it right before you go on.
You will also get the Class Manual containing all of the handouts. Just print them out or view them on your computer screen.
Optional Certification in 5-PATH® Available
This course comes with an optional exam. If you decide to take the exam you can send it to us for grading along with $75 testing fee. When you pass you will receive an 11 by 14 certificate indicating that you have been certified as a 5-PATH® Hypnotist.
Free When You Get Certification
Membership on our online support group
E-Mail support
Telephone support
Free E-Mail in our Hypnotist Directory on our web site, so that you can get clients who want to work with a 5-PATH® Hypnotist.
*Note that becoming certified as a 5-PATH® Hypnotist requires that you pass an exam and that you have a previous certification as a hypnotist through a nationally recognized hypnosis organization such as the National Guild of Hypnotists.


However, you do not need to meet these qualifications to purchase and study this program. Only to be certified in 5-PATH®.
Everything You Need Accompanies this Distance Learning Course
---
This professional hypnosis training program comes complete with all of the handouts from class.
Manual is filled with hypnosis scripts you can use right away.
NEW practice booklet that provides you with confidence and skill building exercises!
---
Cal Banyan Is a Recognized Expert In the Profession Here is a partial list of his accomplishments
---
BS & MA in Psychology from University of North Dakota
Full time hypnosis professional since 1996
Member of the National Guild of Hypnotists since 1996
NGH Certified Instructor since 1999
Writer for the NGH Journal of Hypnotism since 2000
Published, Hypnosis and Hypnotherapy (book, 2001)
NGH Board Certified since 2001
NGH Certified Instructor of the Year 2002
NGH Certified Instructor of the Year 2003
NGH Educator of the Year 2003
Fellow of the National Guild of Hypnotists 2004
NGH Inducted into the Order of the Braid Council since 2005
NGH Charles Tebbetts Award 2005
Cover & Interview, NGH Journal of Hypnotism, June 2005
Member of the NGH Advisory Board since 2006
Member of the NGH Ethics Board since 2007
NGH President's Award, 2008