This Is An Outtake From An Insider's Meeting with Cal (for 5-PATH® IAHP, MEMBERS ONLY – Until Now!)
In Just 5 Minutes Cal Shares His #1 SECRET for Staying Focused
Watch This 5-Minute Video, Apply It and Succeed In Any Business!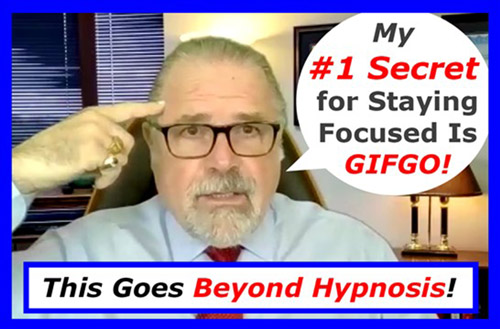 *** Texas State Licensed School ***
*** 5-PATH® IAHP Professionally Accredited Instructor ***
IMPORTANT – "LAST CHANCE TO SAVE $400.00!"
FOR THE November 2021 Certification Course
Taught by Cal Banyan
"LIVE CERTIFICATION COURSE IN CLASS OR ONLINE WITH ONLY DAYS LEFT TO ENROLL!"
NEWS!… NEXT CERTIFICATION COURSE IS NOVEMBER 14-20, 2021
LIMITED TO ONLY 6 STUDENTS IN THE CLASSROOM AT OUR CENTER!
In THIS New Hypnosis Training Episode
This Is An Outtake From An Insider's Meeting with Cal
(for 5-PATH® IAHP, MEMBERS ONLY – Until Now!)
In Just 5 Minutes Cal Shares His #1 SECRET for Staying Focused
Watch This 5-Minute Video, Apply It and Succeed In Any Business!

Hello Hypnotists and Hypnotherapists as well as Soon-to-Be Hypnotists!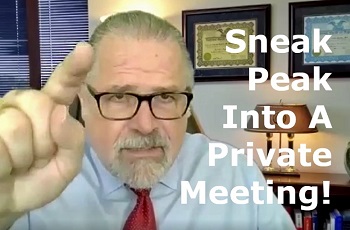 Welcome back! In this very quick video, I'm going to let you in on my #1 SECRET for staying focused and succeeding in everything that I do.
I disclosed this SECRET in a PRIVATE 5-PATH® International Association of Hypnosis Professionals special meeting.
It is only 5 MINUTES long and I wish I would have known the much sooner in my life! Let me tell you about GIFGO!
I also have a longer excerpt from the meeting that I'll post shortly. In it I play "Dear Abby" and answer a few very important questions! So, keep watching your email for that announcement.
Watch this video to learn more:
How to keep ON TRACK!
How to remain focused on your GOALS!
Discover the power of GOLD IN FOR GOLD OUT!
And the best part is that it FEELS GOOD!
More!

Related Link:

Help to spread the word and pass this newsletter on to anyone who you think would appreciate it!
Here's the NEW VIDEO – Click to Play…
Scroll Down for the Latest News
Click to Learn More

Click to Play Audio-Only Version

Look Special Announcements!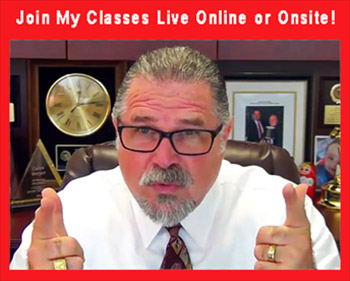 LIVE Training Certification Courses with Cal Banyan LIVE
ONLINE & IN CLASS!
Our courses are typically "hybrid" courses with both online and in-class students learning together. This provides the very unique opportunity during practice sessions to hypnotize your classmates both online and onsite! Only a few 5-PATH® CPHIs offer such a practical and current way to learn and practice hypnosis!

NOTE: Limited Seating and Enroll-By Dates Listed Below!
BECOME A CERTIFIED HYPNOSIS PROFESSIONAL You get National Guild of Hypnotists (NGH) and 5-PATH® International Association of Hypnosis Professional Certification. Includes training and certification in 5-PATH® Hypnosis/Hypnotherapy and as a 7th Path Self-Hypnosis® Teacher.
Live classes will have both onsite and online students. Social distancing practices will be practiced by onsite students, we are at this point limiting onsite students to 4 to 6.
NOW my NGH and 5-PATH® IAHP Approved Certification Super Course is only 7 days.
That's right! I listened to you! Now, you don't have to be away from family, or work and for two whole weeks to receive our regularly scheduled 10-day certification super course. Time in class has been reduced because now we provide you with 25 hours of self-study in advance and then when you have completed that, you can join us for 7 days of live in class (or live online) professional training! Click here to learn more about the new 25+7 Certification Course.
Course size is very limited! First come first serve applies.
7-Day Full Certification (with 25 hours of self-study)
Live ONLINE – Click to learn more or enroll in a live course listed above at the Banyan Hypnosis Center – BUT – you CAN participate using your Mac or PC! Call for the latest info about attending in person.
NEW

– Video Course! Certification Course for Conducting Hypnosis Sessions Online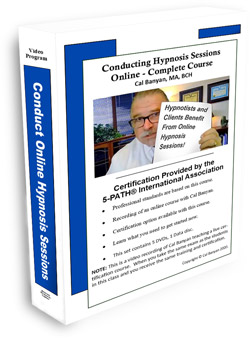 Professionals are moving to online sessions! There are some very good reasons to move all or part of your hypnosis practice online. Cal Banyan knows. In fact, he was asked to write the official National Guild of Hypnotists, Standards of Practice for Conducting Hypnosis Sessions Online which are on the NGH website.
Includes the Exam, Certification and Certificate of Completion
Approved for 7 to 8 Hours of National Guild of Hypnotists CEUs
Video Distance Learning Course with Certification Option
Click for Course Details if you would like to find out about our next Certification Course for Conducting Hypnosis Sessions Online.
SPECIALS ON DISTANCE LEARNING (VIDEO TRAINING)
*** Train at Home & Work from Home Online ***
DISTANCE LEARNING: Hypnotists and Hypnotherapists – Get 5-PATH® Certified from Home!
Plus Fast Professional Hypnotic Induction Training – See Specials Below
On Sale NOW! Let's Put COVID-19 Behind Us Specials!
*Will End Without Notice*

COVID-19 Special


COVID-19 Special

Yes! You Can Get Live Online Hypnosis Sessions with Cal 🙂

Hypnosis and Hypnosis Training You Can Believe In!

Get ALL My Free Videos!

You Are A VIP Member! You Have Access to All my FREE Hypnosis Training Videos!

When You Graduate from A Banyan Hypnosis Certification Course YOU Become Part of a Community of Helpful and Successful Hypnosis Professionals
Thank You for OVER 25 Years of Hypnosis Services and Training
This year marks our 25th Anniversary of being full time in this wonderful profession. During that time, my wife, Maureen and I have had the privilege to work with so many wonderful people including clients, students, graduates around the world and other hypnosis professionals.
Banyan Hypnosis Center for Training & Services, Inc.
University Plaza – 275 West Campbell Road, Suite 245
North Dallas (Richardson), Texas 75080
Phone Numbers:
469-969-2176 and 800-965-3390
Give us a call we understand that you may have questions!
QUESTIONS OR COMMENTS? USE THE COMMENTS SECTION BELOW