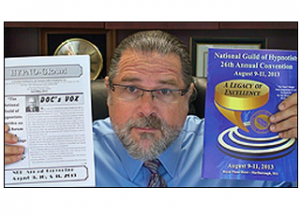 Hello Hypnosis Pros!  I just wanted to get this out to you.  NOW is the time, if you have not already figured it out, is the time to get serious and do whatever you have to do so that you can go to the 2013 National Guild of Hypnotists Convention (August 9 – 11).
Here are 6 really good reasons:
I'll be giving these 4 Business and Skill building talks.
50 minutes. "Success Is A Journey to Before You Were Born—The Informing Soul Technique – Know Your Purpose In This Life"
50 minutes. "The Universal Patter Script!?!—Is it Possible That One Script Could Do It All?"
1 hour 50 min "Using the Internet To Make Your Phone Ring—What You Must Know To Make Your Website Work For YOU!"
1 hour 50 min "With Age Regression Success Is A Journey Back In Time—What You Must Know To Be A Successful Regression Hypnotist"
And, here are 4 more:  You can pick Maureen Banyan's brain about how to run a highly successful hypnosis center, and how to book appointments; Meredith will be there; Celeste will be there; and Brenda will be there.  We all want to meet you.
Go to www.NGH.net for more information about the convention.
See you there!