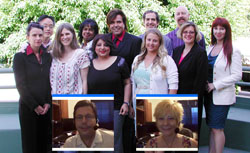 Do you want to become a successful certified hypnotist or hypnotherapist?
Take our October 2012 NGH Approved Hypnosis Certification Super Course and receive the training and support to become a successful certified hypnotherapist.
This hypnosis training course is available online or live at our center.
Ending this week is our early registration discount for the October 2012 hypnosis training course.
If you enroll by July 31, 2012, you get an instant $600 savings.
NGH Approved Banyan Hypnosis Certification Super Course includes the following:
Certification through the National Guild of Hypnotists (NGH).

Certification in the elite forms of 5-PATH® Hypnotherapy and 7th Path Self-Hypnosis®.

18 hours of supervised hands-on training.

FREE copy of Hypnosis and Hypnotherapy book by Cal Banyan & Gerald F. Kein.

FREE ongoing support through our Yahoo! groups.

FREE membership in the International 5-PATH® Hypnotherapist Association.

Much more …
Find out what recent graduates said about the course below.
"As a physician, I needed a training course that:

Had a reasonable map of consciousness
Had a systematic approach to surgically address psychological and behavioral issues
Had sufficient time dedicated to practice of techniques
Was led by a teacher committed to not only dispersal of important information, but actual development of prepared practitioners.

I can verify that Cal Banyan has created and led such a course with the 2 weeks certification course. The teaching of 7th Path with 5-PATH also satisfies the Hippocrates oath that healers also must heal themselves."
Eugene Ahn, MD
Miami, FL

"5-PATH and 7th Path are the missing links in the therapeutic modalities being offered today. As a psychotherapist, this work opens up a whole new approach to deepening and also speeding up the therapy process. Any psycho-therapist could benefit from taking this course."
John Medveckis, MA, LPC
Santa Barbara, CA

"Through the process of 7th Path Self Hypnosis, I became aware of a deep seated anger. Through the 5-PATH technique, I released that anger and replaced it with a sense of love and hope that, prior to this course, I would not have experientially know."
Courtney Greene, BA
San Pedro, CA

"The Banyan Hypnosis Center is professional, efficient, organized with knowledgeable staff. Class instruction is thorough and meticulous. I was personally hypnotized by Calvin Banyan. The experience has been transformational and beneficial. I would highly recommend Cal Banyan's method: Five Phase Advanced Transformational Hypnosis (5-PATH) for children, adults, and for the famous and elite. Cal Banyan can help you with anything, he is a true master. Thank you for teaching me 5-PATH and 7th Path. Always your student."
Nirvana D.
Long Beach, CA
If you would like to learn more or enroll in this upcoming course, click here. Enroll this week. Last chance to save $600!
Got questions about the course?
Give our office a call at (714) 258-8380 or toll free (800) 965-3390.