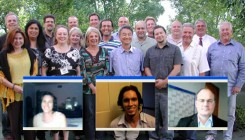 Do you want to become a successful certified hypnosis professional?
Take our upcoming July 2012 NGH Approved Hypnosis Certification Course and receive the training and support to become a successful certified hypnotist.
For this week only, we are offering one last chance to save on our upcoming July 2012 class.
If you enroll by June 15, 2012, you get an instant $200 savings.
With the NGH Approved Banyan Hypnosis Certification Super Course, you get the following:
Get certified through the National Guild of Hypnotists (NGH).

Get certified in the elite forms of 5-PATH® Hypnotherapy and 7th Path Self-Hypnosis®.

Plus 18 hours of supervised hands-on training.

Added Bonuses!

FREE web page on our Hypnotherapist Directory.

FREE ongoing support through our International Online E-Mail Group on Yahoo!

FREE membership in the International 5-PATH Hypnotherapists Association.
Find out what recent graduates said about the course below.
"What an amazing experience! I truly did not realize that I would feel ready to be a hypnotherapist in only 2 weeks. Cal imparted an incredible amount of information skillfully and expertly."

"This course is profound and life changing. The knowledge I gained will be instrumental in changing my life so that I can change the lives of others.""

"When I finally decided that I wanted a career in hypnotherapy, I did a ton of research and one name kept popping up, Cal Banyan! Definitely, the best move I have ever made.""

"Excellent! I learned more in two weeks than most learn in years. Cal makes it experiential and intellectual. Great information. I highly recommend this training."

"The hypnotherapy course at Banyan Hypnosis Center surpassed all my expectations. Cal's dedication and enthusiasm about hypnosis, 5–Path, and 7th Path are contagious. The course was well designed and structured to build the right knowledge and confidence to help jump start my practice as a Certified Hypnotherapist. Being in the class for two weeks, I have noticed a shift mentally and emotionally. A lot of work went into bringing this course together. I am grateful. Thank you."
If you would like to learn more or enroll in this upcoming course, click here. Enroll this week. Last chance to save $200!
Got questions about the course?
Give our office a call at (714) 258-8380 or toll free 800-965-3390.