Maureen – Consulting Hypnotist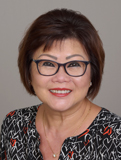 Maureen Banyan, C.H.
Maureen has been a Certified Hypnotherapist with the National Guild of Hypnotists since 1999, she has received advanced hypnotherapy training in 5-PATH® Hypnotherapy and 7th Path Self-Hypnosis®.
In addition, Maureen is also the General Manager at the Banyan Hypnosis Center, where she manages the Banyan Hypnosis Center business. Over the years she assisted with and supervised Hypnotherapists on staff, and also assisted with hypnosis certification trainings.
Maureen is a member of the National Guild of Hypnotists Ethics Committee.
In 2010, she received the National Guild of Hypnotists – Hypnotism Achievement Award.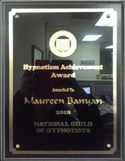 She is a true believer in the power of hypnosis and has used weight loss, habit control, confidence, motivation, smoking cessation, fears and phobias, and more.
Maureen brings many years of experience, excellence and integrity to the profession. She looks forward to working with you to accelerate forward and reach your full potential.