7th Path Package (7th Path Self-Hypnosis® CD Set, The Hypnotic Seashore with Music & TSLOF)
The package includes the 7th Path Self-Hypnosis CD Set, Hypnosis Seashore with Music Audio CD and The Secret Language of Feelings Book.
Sale Ends: May 26, 2014
7th Path Self-Hypnosis™ CD Set
Presented by Calvin D. Banyan
The 7th Path Self-Hypnosis® System Is A Mind-Body-Spirit Approach that combines the benefits of meditation with the power of self-hypnosis to help you make good positive changes in your life.
Practitioners of this new system, will benefit in many ways because it is a holistic approach. This means that as you work on a particular issue such as improving motivation, concentration, breaking a bad habit, or whatever, the positive effects of using this system will affect many other areas of your life.
The 7th Path Self-Hypnosis® System does this by first removing old negative programming from your past first, such as limiting beliefs and habits. Then, you begin to work on any specific issue that you care to focus on.
Contents of CDs 1 through 6
CD 1
Introduction To the Class
Introduction To the Instructor
Brief Discussion of the Hypnotherapy Certification Course
Sponsoring A Hypnosis Or Hypnotherapy Course
Brief Discussion On Past Life Regression And Hypnosis
Introduction To the 7th Path™ Booklet
Why It Is Difficult To Learn Self-Hypnosis From A Book
Why The Best Way To Learn How To Do Self-Hypnosis Is While You Are In Hypnosis
Hypnosis In Our Media And Popular Culture, Such As Movies
How You Will Learn Hypnosis In This Class, Using An Easy, Logical, Progression
Discussing – Model of the Mind Handout
Explaining the Conscious, Subconscious, Unconscious, And "The Mind of Many Names"
The Mind of Many Names May Be Called Soul, Higher-Self, etc.
The Interaction Between the Subconscious and Unconscious Mind Produces Emotion
Example of Anger Coming From The Perception of Unfairness
Use of Hypnosis With Patients In Coma
CD 2
Critical Factor (Critical Faculty or Function) As A Comparing Function
Conscious Mind As A Point Of Focus (Past, Present And Future)
Hypnosis As A Romancing Of The Conscious Mind
The Hypnotic Contract
Hypnosis Compared To Asking Someone To Dance
Brief Discussion Of Age Regression Hypnosis
Hypnosis Demystified, Hypnotic Hallucination Is Normal
Hypnotic Anesthesia, Amnesia and Hallucinations In Normal Consciousness
United States Government Definition of Hypnosis
Definition Of Beliefs And Where Beliefs Come From
Brief Discussion Of Hypnotherapy Using Age Regression, An Insight Therapy
7th Path Self-Hypnosis® Does Not Require Insight Or Reliving Of Events
7th Path™ Is Wonderful For All Those People Who Will Not Seek Therapy
Where 7th Path™ Came From: Psychology, Philosophy, Theology And Metaphysics
7th Path's Connection To Five Phase Advanced Transformational Hypnosis (5-PATH®)
Brief Discussion Of The Development of 5-PATH®, A Systematic Approach
7th Path™ Is Different From Regular Self-Hypnosis; It Incorporates Insights Of 5-PATH®
Story Of The Student and Master
Steps (Delta) 1 Through 4 Of 7th Path™, Empty The Cup (Limiting Beliefs And Habits)
Step (Delta) 5, Is When You Put In New Useful Beliefs and Habits
CD 3
Why We Will Be Using The Symbol, "?" (Delta)
Using ?, Allows Us To Have A Mind-Body-Spirit Balance In Our Hypnosis
The 7th Path™ System Is For Normal Everyday People With Normal Every Day Problems
Why Bring Spirituality Into It At All? (It May Be Faster And Longer Lasting)
Doing The 7th Path Self-Hypnosis® System As An Individual And In Groups
You May Start Getting Results Before You Start Suggesting Results
Taking Control Over Addictive Substances By Overcoming The Cause
There Are Side Effects From Doing 7th Path Self-Hypnosis®, And They Are All Good!
Learning Self-Hypnosis In The Hypnotic State Is The Way To Go
Learning The Self-Hypnosis Suggestions In The Hypnotic State Is Best
Delta 1 (? 1, The First Suggestion, Four Words) Is Extremely Elegant and Efficient
? 1 As Hypnotic Induction, Deepening Technique, Suggestions And More
Your Seething Cauldron Of Emotions, Fueled By The Past, Present, And Future
Emotional Resonance, And Why You Sometimes Over React Emotionally To Situations
How This Approach Will Make You More Calm, Relaxed And In Control
How The First 4 Steps (? 1-4) Neutralize Erroneous Subconscious Programming
How To Use These Techniques (Integrating Thoughts, Feelings, Memories, etc.)
How The Suggestions Combine And Influence You After You Self-Hypnosis Sessions
How Often And How Much Practice Is Required To Get Results
Why Frequency Of Practice Is More Important Than Duration Of Practice
When To Do Self-Hypnosis To Get Maximum Results
What Autosuggestion Is And How To Use ? 1-5 As Autosuggestion
How To Use Self-Hypnosis When You Go To Sleep At Night
Using ? Thoughts (Autosuggestion) As A Thought Stopping Technique
CD 4
Daily Use Of Autosuggestion To Improve Attitude, Mood In Daily Life
Going Into Maintenance Mode By Reducing The Frequency Of Self-Hypnosis Sessions
Why You Need To Always Complete The Time Committed To Each Session
All Thoughts, Feelings, Memories Experienced Are What You Need To Experience
How You Can Open Your Eyes In Hypnosis And Not Emerge From Hypnosis
How To Do Longer Self-Hypnosis Sessions And How That Can Help You
Why You Should Never Use A Timer When Doing Hypnosis And What You Can Use
The Urge To Emerge From Self-Hypnosis
7th Path™ Is Easier For The Western Mind Than Meditation
You May Experience Strong Emotions, And Becoming Free Of Them
When To Seek A Hypnotherapist Or Other Mental Health Professional
How Do You Know If You Are Doing It Right
How To Emerge From Hypnosis
The Worse Thing That Can Happen Is That You Might Go To Sleep
What If You Get Hypnosis Hangover?
Use Recognitions Exactly As Given
You Can Expect Getting Some Results Right Away
How Many Recognitions Do I Need?
Advanced Forms Versus Basic Forms Of Recognitions
What If Someone I Know Is Using A Slightly Different Form Of A Recognitions?
What Kind Of Success Our Students Are Experiencing
How This System Will Help You Succeed At Doing Other Things
The First Hypnosis Session
Receiving The First Recognition And Suggestion For Self-Re-Induction Of Hypnosis
First Self-Induction Of Hypnosis
CD 5
Discussion Of Time Distortion Experienced In Hypnosis
Subjective Experiences Of Hypnosis
Students Share Their Experiences: Emotional, Physical, Thoughts And Memories
Second Self-Induction Of Self-Hypnosis
Receiving The Second Recognition
Self-Emerging From The Sessions
Talking About The Emotional Experience Of The Second Recognition
How To Teach This Process To Others
Class Talks About The Experience Of Receiving The Second Recognition
Why All Feelings Are Good, And How To Understand Your Feelings
Understanding Anger, As An Example Of All Feelings Being Good
Discussion Of The Need To Release Old Festering Emotions
The Role Of Relaxation In The Process
Why One Recognition Will Affect You More Than Others
Introduction To Forgiveness And Not Having To Forget
Talking About Advanced Recognitions
How To Use More Than One Recognition When Doing The Self-Hypnosis
Using The Focus Point When Doing The Second Recognition
Receiving The Third Recognition While In Self-Hypnosis
CD 6
Talking About The Third Recognition
How To Use These Recognitions As A Thought Stopping Technique
How Many Delta Thoughts Or Concepts Can You Use In This Process?
Receiving The Fourth and Fifth Recognitions While In Self-Hypnosis
Discussing The Fourth Recognitions And Its Usefulness In Forgiveness
Discussing The Fifth Recognition, And It Was Like To Receive It
The Fifth Recognition And The Power To Choose (Freewill And Action)
Using The Fifth Recognition To Give Yourself Suggestions For What You Want
The 6 Rules For Writing Really Powerful Hypnotic Suggestions
The Role Of Fantasy In Using The Fifth Recognition
Summary And Discussion On How To Use All of This In Your Life
Note that this is one of our Class on CD series and does not qualify for the 60 day money back guarantee. This program is guaranteed against defect. If a CD does not work because it is defective it will immediately be replaced.
6 CDs - Approx. 345 minutes
*If you purchase this item you agree to the 7th Path Terms of Use.
---
The Hypnotic Seashore with Music
These recordings of the Pacific Ocean in the early morning make for the perfect background for meditation, hypnosis and relaxation. While soothing the listener the ocean helps to block out distracting sounds from your environment. These special recordings were made on a jetty, which means the waves pass from your right to your left rather than coming right at you like other recordings. This approach is much more relaxing and hypnotic in effect. These the recordings that we use at our center when we teach our hypnotherapy certification courses and self-hypnosis sessions. We think you will enjoy them very much. That is why we offer you the opportunity to sample them before you order. Enjoy!
Recorded by Calvin D. Banyan
Music by Harry Henshaw
1 CD - Approx. 60 minutes
Hypnotic Seashore with Music Sample
---
The Secret Language of Feelings

Click to Read Text Version of this Video
Take back control of your life with this revolutionary new approach to self-understanding, self-healing and self-improvement. All feelings are good! Even anger, sadness, guilt, and depression...This book reveals the healthy side of emotion that leads to success and personal fulfillment.
How to stop coping with emotions and really satisfy them.

How to instantly reduce or eliminate anger, stress, depression & more.

How to find out what you really want in life.

How to understand others so well they will think you are psychic.

How to stop feeling bad for feeling "bad" and start feeling better now!
Click on the pages below to enlarge. Links open in a new window.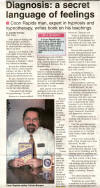 Article on The Secret Language of Feelings
In this book, Calvin Banyan, will reveal how thousands of hypnosis sessions have uncovered a secret language inside of each of us and how our lack of this understanding has caused every kind of addiction, compulsion and bad habit.It will show you how--through the understanding of this hidden language, that you can begin to set yourself free right now and become more successful than you have ever imagined!
This book announces, "All feelings are good!" Anger is good, sadness is good, loneliness is good, even frustration and depression are good, once you understand the message contained within each and every one. Those messages are revealed in this book along with how to respond to the important information, giving you new direction in your life. This direction will lead you to happiness, success and more.
by Calvin Banyan
Check out a review for The Secret Language of Feelings by Judy Mcbride of "Your Health Magazine"
Recommended Items