I just found out that the teleseminar I will be doing on Tuesday will be available via telephone AND the Internet. Just click here and see how it works and get all the info.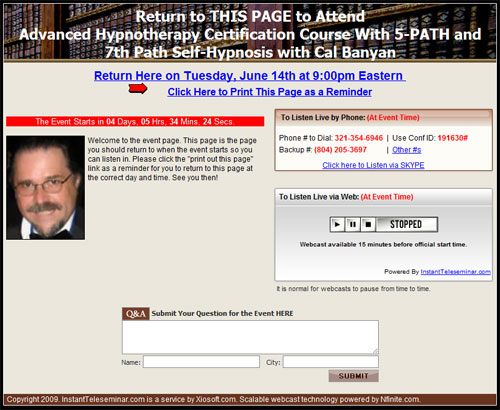 Here is some of what I'll be covering as well as talking about the upcoming Week of Power course at the National Guild of Hypnotist Convention in August.



What it REALLY takes to become a Hypno-1%er™, the best of the best in the profession.

Insider info on using convincers to grow your practice and get better results.

The secret to building your skills and confidence that most courses leave out.

The 5 questions you must ask during an age regression.

How to confirm that you have the real cause of the problem when doing an age regression session!

How to create "hyper-suggestibility" in your sessions and create long lasting change.

Plus, you will learn the one and only insight driven form of self-hypnosis.

Plus, much more.
Bring your questions and I'll answer them on the call. This is going to be fun!