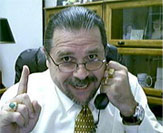 Did you manage to catch the live interview? This is the REAL DEAL. I really gave everyone the "inside scoop" on my Week of Power, 5-PATH® and 7th Path Self Hypnosis® in this latest interview for the National Guild of Hypnotists.
Elsom Eldridge, Jr. and those who asked questions really put my Week of Power program under the microscope!
I think the best part was the call-in time at the end of the call. Callers got to ask me anything, and I was particularly moved by those who have graduated my courses who called in just to share how much 5-PATH® and 7th Path Self-Hypnosis has changed their lives and the lives of their students and clients.
That is why I am bringing the complete call to you now. Have a listen and leave a comment!
[audio:http://www.calbanyan.com/audio/cal-banyan-interviewed-about-the-week-of-power-for-ngh-convention.mp3]
BONUS! Yes you can still get FREE access to my audio training program, "Doing Direct Suggestion Hypnosis Right", normally sold for 29.95! The details are in the audio program.