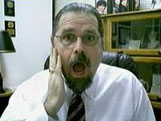 Yikes! Ever wish you could get the "inside scoop" on my Week of Power training? Ever thought, I'd like to put Cal's program under the microscope and see what it is REALLY all about? What if anyone could ask anything about where it came from, how it works, and find out what others think about it?
Now is your chance! This Friday, June 25th at 9:15 Eastern Time, Elsom Eldridge, Jr. of the National Guild of Hypnotists is going to interview me on a live teleseminar. I'm going to give out as much free information about how to be successful using the techniques integrated into 5-PATH® as I can during the teleseminar.
BONUS! Everyone who attends will get FREE access to my audio training program, "Doing Direct Suggestion Hypnosis Right", normally sold for 29.95!
Here is the link to all the information, http://budurl.com/banyan.
This is going to be fun, informative and revealing! Talk to you then.