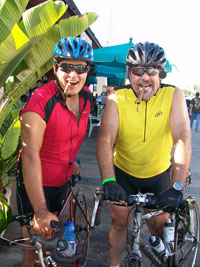 Last year a buddy of mine Guillermo (Memo) and I made the commitment to do a "century ride" which is a 100 mile bicycle ride. We made the commitment because we knew that if we made that commitment and announced it publicly, then we would be more motivated to regularly ride our bikes, and get into much better shape.
Well, we did it. We entered and completed the 100+ mile bike ride from Irvine, California down to San Diego, California. Actually, we went over 100 miles because of a wrong turn, and ended up doing 109 miles!
I'm so glad that we made that commitment and completed the long ride. It took a lot of commitment and follow-through, but it was well worth it.
The picture on the above is of Memo and me right after we crossed the finishing line, posing with a celebratory cigar!
Well, we have just committed to doing it again. AND, I'm wondering if there are any hypnotists out there that want to take on the challenge. There is plenty of time to get on your bike and start getting in shape. It is time to use your hypnosis and hypnotherapy techniques on yourself and take your fitness to the next level! Next year, you can be in the photo (cigar optional). 🙂

Here is a link to the site that has the information about "Amtrak Century Ride" sponsored by the Orange County Wheelman bicycle club.
http://www.ocw.org/Amtrak/Default.asp
Come on and join me in the commitment to go the distance. It will be a great motivator to help you get on that bike of yours and get into shape for the ride. You will look and feel great this summer!
Leave a comment and let me know what you think. If you are ready to make the commitment to do the ride with Memo and me, then let us know in the comment section below! It will be fun!