In this economic environment, consumers are extra careful before they spend. Among professional marketers, it is well known that third party endorsement improves consumer confidence. This is the purpose of such organizations, like the Better Business Bureau. You can improve the confidence of those who visit your website by showing them that you have received the Quality Award: Excellent Hypnosis Website™ and this graphic.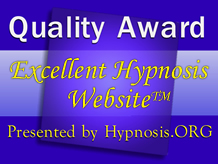 Who is this program for?



When potential clients and students visit a website and they see the Excellent Hypnosis Website™ award emblem, they can feel assured that it is a quality website, and recognized as so by a credible third party.
How to apply:
If you are a hypnosis website owner and would like to be considered for the award, all you have to do is send us the following information. Then one of our staff, will visit your website and confirm what you say is true. Once that is done, then you can receive the emblem.

Note: This is a free service.
Websites will be judged on the following criteria:
The website must have a professional appearance.

The website must be truthful.

The website must reflect positively upon the profession.

The website must contain truthful credentials (i.e., valid degrees, certifications, etc.)
At this time, we can approve sites that contain only English, because we are unable to verify the content of any other language.
Click here to apply for the program
Please contact us if you find that any site carrying our award emblem does not meet the criteria listed above by using our contact form. This will help us to maintain the quality of the award program.