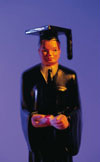 From time to time I run into hypnotists who want to take our advanced course, the Week of Power and want to know if a Doctorate in Hypnotherapy or a PhD in Hypnotherapy would suffice to get into our course. It is sad that I have to tell them that it simply isn't good enough from our perspective, and that those "degrees" should be avoided. Here is an exchange I recently had with one such person.
Identifying information has been changed and the message from this individual has been paraphrased.
Message with Question about Acceptance of DCH
Hi Cal,

I would really like to attend your upcoming Week of Power course. But according to your website I need to be certified as a hypnotist or hypnotherapy by a reputable organization such as the National Guild of Hypnotists in order to enroll. I have a DCH from ______________ (in the USA). Would you accept that rather than a certification by an organization?

Name withheld
My Response
Hello Name withheld,

Thanks for your message. From our perspective the DCH is worthless. It is not a real degree with "regional accreditation". And we do our best to recommend that hypnosis professionals do not become associated with such non-academic programs.

I recommend that you have a look here to learn more about the kinds of problems that these "degrees" can cause.

http://www.calbanyan.com/archives/2006/07/13/phd-trouble-for-well-known-hypnotist-in-the-uk/

http://www.tomnicoli.com/blog/2007/06/07/hypnotists-and-credentials-what-a-business/

I understand that such programs can require you to read many books, even attend lectures, and require one to write a paper/thesis/dissertation, etc. But they are still not real, and do not meet regular academic standards and as such, should be avoided. I understand that one can learn a lot from reading all those books etc. but still the degrees are not real.

With this in mind, we cannot recognize your DCH, and would have to decline your request unless you can show that you have had previous certification in hypnosis or hypnotherapy by a reputable organization such as the National Guild of Hypnotists.

Here's to your success!
Cal Banyan
Well, there you go. I am certainly not the hypno-sheriff. I can't keep anyone from becoming involved in this kind of thing. But, I do want to put it out there. Don't be fooled by these "degree" programs.
What do you think of these degrees? Do you have one? Were you thinking of getting one? I believe that they are deceptive and that when one holds that "degree" out as a qualification to the public, individuals seeking services will think that it is real. This is unfair, because an individual with this degree is not necessarily more qualified than anyone else offering hypnosis or hypnotherapy services. As a matter of fact, the hypnotists and hypnotherapists practicing today may be much more qualified and not have the degree.
Do you want a degree? Good! I'm all for education. I have both a BS and MA in Psychology. But they are certainly not required in order to be qualified to do this work.