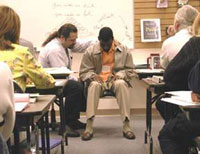 It has been a cold and rainy winter in California, and luckily I managed to get away and conduct my hypnosis and hypnotherapy training courses in Singapore and Malaysia, and kept nice and warm. Now, I'm thinking about next year. That is why I'm looking for some good suggestions?
So, if you live in a warm climate anywhere in the world and would like me to come to your area and conduct my courses, either the Week of Power Advanced Hypnosis and Hypnotherapy Training or my NGH Approved Banyan Hypnosis and Hypnotherapy Certification Super Course, now is the time to let me know.
Here is what you need to do. Contact us right away if you:
Can help us to connect with an excellent place to hold our course.

You can legally sponsor us into your area or country.

You can help us to promote the course to English speaking students in your area.
That is it! Do you want to bring me and some of the best hypnosis training in the world to your city? Contact me right away, we are scheduling for winter right now! I can only go to so many places, so you need to let me know if you are interested as soon as possible. Email me at CalBanyan@HypnosisCenter.com and maybe I'll see you in class!