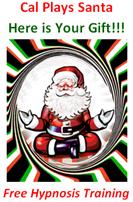 Happy Holidays! I'm posting a quick reminder because I don't want you to miss out on this one.
Just click here, free hypnosis training, and you will have instant access to my holiday gift to you, instant access to my hypnosis training videos, Instant and Rapid Inductions for the Professional, online. These videos sell for $99.00 and for now until Jan. 1st, 2010 you can watch them online for free.
Why am I doing this? That is easy, I recognize that as members of the profession you are helping countless people around the world, and I want to show my gratitude for what you are doing. I truly believe that providing you with these videos and business building audio programs together we will make your hypnosis practice more successful.
Let's do great things together.
Cal