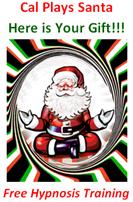 Happy Holidays! At last the audios and videos are ready for me to share with you.
Why am I doing this? That is easy, I recognize that as members of the profession you are helping countless people around the world, and I want to show my gratitude for what you are doing. I truly believe that providing you with these videos and audio programs will make your hypnosis practice more successful.
Let's work together. I hope this will be a great way to either begin our relationship, or strengthen the relationship that we already have.
Just click here, free hypnosis training, and you will have instant access to these valuable training videos and audio programs.
Let's keep in touch and do GREAT things together. I know that we can make the coming year the best ever.
Here is my contact information.