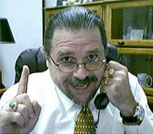 This is the sale you have all been waiting for, so act now. Call your hypno-friends!
This week you get 20% off all books, CDs and DVDs, including CD and DVD training programs.
Why? Don't ask why, just act now before we change our minds. This is a great deal, and a deal like this doesn't come along very often. Let's call it "Cal's Fall Special".
Visit www.BanyanHypnosisMall.com or click on one of the hypnosis training books, CD's, or DVD's below.
All these popular training programs and many more for 20% off this week!
What a great time to get yourself or a friend a hypno-gift for the holiday season!
To get in on this really, Really, REALLY great deal, just enter this coupon code when you check out, "fallspecial".
You can also order by phone by calling (714) 258-8380 or toll free at 800-965-3390.