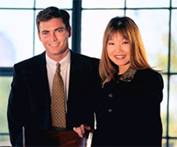 I am very excited to let you know that we are pre-launching the NEW Banyan Hypnosis and Hypnotherapy Distance Learning Certification Course – AND – we are offering a huge savings for a very short time in order to get your feedback on the course.
This is a very special course – it takes the student from beginner to learning the skills needed to be the best of the best in the profession. You'll learn fast hypnotic inductions that really work, hypnotic testing, age regression, parts work/therapy and much more.
Only 12 sets will be available at this pre-launch price and the prelaunch will only run for 7 days, from now through October 2nd, 2009 (Ends at 12 Midnight PDT).
The total value of this course over $2,200 and for this 7 day period ONLY it will be available for only $995.00.
This pre-launch special WILL end when either 12 sets have been ordered, or on October 2nd, whichever comes first.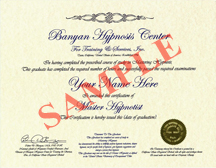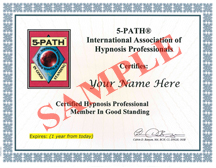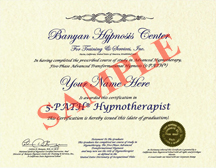 Master Hypnotist Certification
Membership in the 5-PATH® International Association of Hypnosis Professionals
5-PATH® Hypnotherapist Certification
Why the really big discount? We are going to send along an evaluation form with each of the pre-launch programs so that we can have each of you honestly review the new certification package. We believe that this is the best course ever produced for distance learning, but we want to hear what you think after you have gone through the entire course. We believe that having 12 sets reviewed will give us the feedback we need to proceed with the official launch.
Here is just some of what is included in this new course:
Master Hypnotist Certification

5-PATH® Hypnotherapist Certification

Instant & Rapid Induction DVD set

Pre-Talk DVD

Secret Language of Feelings DVD sets

Business Start-Up Pack, book & CDs

Hypnosis and Hypnotherapy: Basic to Advanced Techniques for the Professional, book

Turn Your Practice Into a Goldmind, CD set

Entire 5-PATH 2.0 DVD Distance Learning Course

How to Conduct Hypnosis Sessions for Weight Loss and Smoking CD sets

$300.00 and $500.00 coupons to save on live courses

90 Day 100% Satisfaction Guarantee!
Click www.CertifiedHypnosisPro.com now to get all the details.
Once again, this is a very limited offer. After the pre-launch the price will go up to $1208.00 (or more).
Questions? Call our office Monday through Friday 714-258-8380 or 800-965-3390.