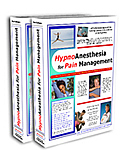 Save $79.99 on the complete two-day hypnosis training course recorded at the Banyan Hypnosis Center is contained on 8 DVD's, plus there is also a CD with the hypnotic music that Ron Eslinger uses for his pain management sessions, and the entire course manual is on another CD. Get the Pain Management DVD Set Here!
Eight DVD's containing the entire course.




Hypnotic Music CD

The Complete PowerPoint HypnoAnesthesia for Pain Management presentation on CD

Contained in two large volumes.
This is the first seminar that teaches the four non-pharmacological pain control methods and their relationship to hypnosis.
Demonstrations and antidotal case studies will be reviewed and will include; method of hypnotic induction, formulating hypnotic suggestions for decreasing or removal of symptoms, and metaphorical guidelines with goal setting and treatment planning. Hypnosis as a coping skill in dealing with secondary gain will also be included.
Add to your hypnosis skills and techniques with this hypnosis training DVD set. The HypnoAnesthesia for Pain Management DVD set by Ron Eslinger is on sale this week only so hurry up and get it here!