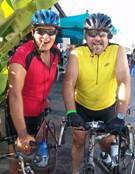 Last Saturday morning at about 7:00 AM, Memo (a Secret Project friend) and I started off on a very long bicycle ride called the Amtrak Century Ride, sponsored by a local bike club, the Orange County Wheelmen.
After 7 hours of pedaling, we managed to ride from Irvine to San Diego, California! All in all, we rode 109 miles. It was a planned 101 miles but we missed a couple of turns and got some "bonus miles" in. 😉
In the photo above, you can see Memo (Guillermo Guiterrez) and I posing right after the ride. Before the ride, thanks to my secret project, we both lost a significant amount of weight. I've lost 27 pounds and he has lost over 30, and completing the 109 mile ride is a great indication of our new fitness and energy levels.
How did we do it? We did lots of practice rides. And, I managed to stay motivated by using 7th Path Self-Hypnosis®. I also couldn't have done it without having lost weight and fully energizing myself with my secret project.
Need motivation?

Want to make more money?

Want to get more energy?

Want to improve your health or lose weight?
Email me at CalBanyan@HypnosisCenter.com and I'll "spill the beans" as they say.
You can change your life! You can be healthier, happier and more financially secure. I'll show you how. 🙂
(Because of time limitations I can only work with 5 new partners each month.)