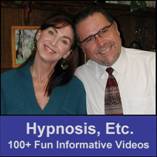 Hello Friends – We are happy to announce the new Hypnosis, Etc. "fan" page on Facebook. (I don't really like the term "fan" but that is how the Facebook team set things up).
IMPORTANT: For those of you who have already "friended" me on www.facebook.com/calbanyan, I have some news as well…
You are about to be "unfriended". 🙁 I don't really like doing this, but this is the way that the folks at Facebook want things done. Please don't take offence! I still want to remain connected! But rather than using my old profile page, we are moving over to the new "fan" page that Meredith and I can share.
So, before you forget, click this Facebook Hypnosis, Etc. Fan Page link and go to our new fan page. Then, click on the "Become a Fan" button. The button looks like this…

Once you do that, you will be in on our conversation! You will get short updates about the Hypnosis, Etc. program, and what everyone is talking about. It is going to be fun and informative. I guarantee it!
See you on Facebook!
Cal