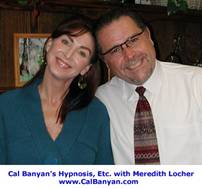 This is an invitation to be part of our next recording sessions of the Hypnosis, Etc. program, which are published each week. To see our previous hypnosis training videos go to www.CalBanyan.com.
That's right, tomorrow at 4PM (Pacific Time), Meredith and I will be recording the next 4 episodes of the online hypnosis training videos program our fun and informative, Hypnosis, Etc. hypnosis program.
You can join the live video stream and interact with Meredith and I during the recording sessions by becoming a member of www.OurHypnoSpace.com and using the video enabled Chat Room. By doing this you will be able to see us live during the recordings and interact with us via chat room text.
We have done this two times in the past and it worked very well. The audience participation makes the program more fun and, we believe, more relevant to what you wanted to see on the show.
We suggest that you join www.OurHypnoSpace.com right away so that you can make sure you know how to use the Chat Room area. That way if you have questions you can contact our office at 714-258-8380 or 800-965-3390. You can also email Taylor@Hypnosis.ORG. We hope you can join us!