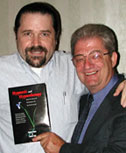 This morning I read a message from Jerry Kein on his Omni Yahoo group. He explained in the message that he would not be going to the NGH convention this year because he will be undergoing electro cardio therapy. He said that he recently experienced a "sudden cardiac death" event, and fortunately he was sustained by an implanted defibrillator which managed to get him back "into a life-sustaining rhythm".
Because of this, his doctor is not allowing him to travel, and wants him to avoid any unnecessary stress or strain. He says that the NGH asked Bob Brenner to fill in and teach the classes which Jerry was scheduled to teach.
We hope you will join the whole Banyan Hypnosis Center staff and me in sending our best wishes to Jerry and his wife, Shirley, while also holding them in your prayers.
Jerry has come through these kinds of health challenges in the past, and I expect that he will soon be fit and among us again at the next NGH convention.
Jerry's contact information is on his website: www.OmniHypnosis.com. I'm sure he would enjoy a cheery note or two from his fans.