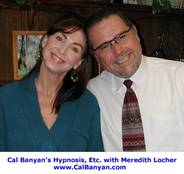 BIG NEWS: We have promised you a date and time for our next Hypnosis, Etc. program recording session so that you can participate and I've got some good news. I just got off the phone with Meredith and we have finalized a date and time for the next recording session!
Yes, you are invited to be part of our next 4 Hypnosis, Etc. hypnosis training videos, published on this site, www.CalBanyan.com.
That is right, you are invited to be in on the recording of the next FOUR videos! "FOUR" you might ask? You got that right, you see, when we record these videos, (and here is an inside secret for you all), we actually record 4 videos in one afternoon, and then edit and publish them one at a time each week on this site and on iTunes.
Meredith and I hope you can all make it to this special event. This is going to be fun. Next Thursday, June 4th at about 3PM (Pacific Time) we will turn on our live webcams and start streaming our recording sessions to you by way of our video chat on www.OurHypnoSpace.com.
So, if you haven't joined our social and professional networking site, www.OurHypnoSpace.com then you will definitely want to do so right away. Then, when we have these online recording sessions, about once a month, you can interact with us live, by typing in your comments and questions as you watch the live video feed. See you then!