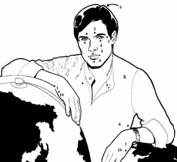 I just got another email about an article I published in the National Guild of Hypnotists, Journal of Hypnotism years ago. For some reason it gets devotees of EFT (Emotional Freedom Technique) all stirred up.
I ask, "Is EFT Hypnosis?" and this really upsets come people. I even got a call from Gary Craig himself, the creator of the technique. He was very upset with me and it turned out to be a very interesting conversation. But the question was still left unanswered. (Well, he said it is definitely not hypnosis, but then he admitted to not knowing much about hypnosis, and therefore see his opinion in that regard pretty useless.)
The President of the NGH, Dwight Damon called me to, and said that he had received a whole bunch of calls and email messages complaining about the article! I didn't mean to hurt anyone's feelings. I just asked a logical question. What do you think? Did I cross the line?
So, with all that in mind, I thought I'd republish it here for you all to look at. But please, no more hate mail! I think EFT is cool. I just wonder if it works because of the reason Gary Craig says it does. Have a look…
"Is EFT Hypnosis?"
I have come to believe that EFT (the Emotional Freedom Technique developed by Gary H. Craig) is hypnosis. I first learned about the technique at the National Guild of Hypnotists Convention four years ago where it was presented as a form of meridian therapy. I did not care for it then, but I came across it again at the next NGH convention when it was presented by Marilyn Gordon. She did a number of very impressive demonstrations using the technique and I was sold.
After the convention I went back to my office and set about "EFTing" everything and everyone in my office with some impressive results. I became convinced of the power of EFT and began introducing it to my clients who came in to work on all kinds of fears, anxieties and some other issues such as cravings. This is where a problem came up. The name of our office is the Banyan Hypnosis Center for Training & Services, Inc. and as a result we get clients who are interested in using hypnosis to overcome problems and for general self-improvement. When I introduced them to EFT "a meridian therapy" my clients often didn't know what to think. Some were in fact disappointed and would even ask directly, "Aren't we going to do hypnosis?"
Go to the EFT article in my hypnosis article archive to read the rest… You will also learn how to do EFT if you don't already know how.