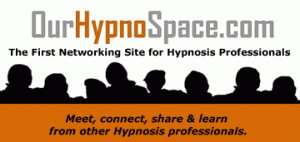 Thank you for helping us to get the word out about our growing hypnosis community.
In our first few months of rebuilding membership after starting over with the new software upgrade we recently gone over the 200 members!
I've said it before and I'll say it again, "As our membership grows, the community becomes more valuable to each and every member."
We have an expanding number of hypnosis related groups. We hope you will check them out, and join a group that is of interest to you.
Current Groups:
Hypnosis For Weight Management

Past Life Regression
It is all about community, and having a place where you can learn, share and make friends.
We continue to improve our community site to make www.OurHypnoSpace.com the most fun and productive place for hypnosis professionals on the Internet.
Your own hypnosis blog.

Hypnosis related videos.

Hypnosis related photos & graphics.

Enjoy hypnosis audio seminars.

And, of course a live text and video chat function.
Once again, thanks for helping us to grow!
It's all about community!
Taylor, Danny & Cal
Site Staff 😀