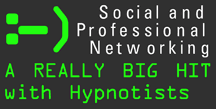 I just got off the phone with Elsom Eldridge, the mastermind behind marketing and setting up the National Guild of Hypnotists National convention and celebration. He was amazed at how much hypnosis professionals like social networking as indicated by the rapid growth of www.TheHypnotistsConvention.com and www.OurHypnoSpace.com (the first networking site for hypnosis professionals). I was pleased to hear that it was going so well for the new convention site, so I was not surprised at all, after all, I have been running and moderating such a site for almost 2 years.
We talked about why this is such an important and growing phenomenon. Here are a few ideas that we came up with.



Hypnotists are "people people" and by that, I mean that they aren't into computers for the sake of technology, but rather as a fun, interesting and helpful way to connect with others in the same profession with the same kind of interests.

It is a really fast way to not only connect with others, but also a really fast way to get the latest information about what is going on in our profession. Some examples are; finding out what is going on at this year's NGH convention (especially on www.TheHypnotistsConvention.com), or getting new hypnosis scripts and techniques (on www.OurHypnoSpace.com).

Unlike already established Internet communication venues, such as Yahoo Groups, where you may only know online the email address or user name of the individuals you are emailing, on a true social or professional networking site, you get to see a very nice profile that can include photos and videos. This makes a huge difference!

The connections made on these kinds of social and professional networking sites can be much more useful, satisfying and personal because there is a face on the message, so to speak. This way, when you go to hypnosis events, such as the NGH convention, you will actually recognize your online friends and colleagues.
So, join in on the fun! For all the reasons above join both of these networks and while you are there I think you'll find a group or forum that is exactly what you are looking for, and if not, go ahead and start your own.
See you on the networks and at the NGH convention!