"Economic Stimulus Package" – Save $300.00 on the 5-PATH® 2.0 DVD Set – Limited Time
We want to help! Now you can improve the security and income level of your hypnosis practice! Work successfully with more clients.
Get the NEW 5-PATH® 2.0 – Hypnosis Training DVD Set Sold every day at $949.00 now available at
$649.00! You save: $300.00 off during the "Economic Stimulus Package" special. Sale will end without notice.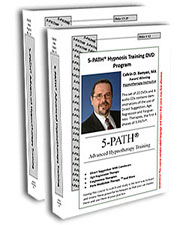 20 DVDs Full of Professional 5-PATH® Training
4 Audio CDs Special Topics
1 CD with Manuals & Handouts
Optional Certification in 5-PATH® Available
If you ask any 5-PATHer the best way to do that is to study the universal approach to doing hypnosis called 5-PATH®. Master this 5-phased process and you can become a Hypno-1%er™, the best of the best in the profession.
And for now, you can actually SAVE $300.00! How's that? Save money, and enable yourself to make more money in your hypnotherapy practice. That is what I call "WIN-WIN"!
NEW and UPDATED!
More than 2 Times the Information of the Original!
Click Here to Get ALL THE DETAILS
Learn Up-to-Date Advanced Techniques
This is the Banyan Hypnosis and Hypnotherapy Super Course!
How to take your clients into deep hypnosis (somnambulism) quickly.

Learn the Universal Hypnosis Script and use it for 90% of the issues you see.

How to use covert testing and convincers.

How to do Age Regression Therapy and the Informed Child Technique.

How to use Age Progression to program your clients for success.

How to supercharge direct suggestion by using insight therapy.

How to create powerful change by doing Forgiveness Therapy.

How to end internal conflict and secondary gain with Parts Mediation Therapy.
Look at what the students who were in this live course said about this course!
"This was a powerful class. I took this course to gain confidence as a hypnotist. Not only did I gain confidence but also the course itself superseded my expectations." Karla Hermann, Belgium, WI
"Cal, you're the greatest! After working with several methods, I finally have a structured approach that works miracles." Sylvia Eichmann, Switzerland
"Brilliant! This training is by far the best investment I've made in myself since becoming a professional hypnotist 4 years ago." Phillip Dickerson, Plano, TX
"Cal is an outstanding teacher. He is a top-notch hypnotherapist who is very inspirational. I received great information and instructions from this class about what works best for clients to transform and work through their issues." Beth Barish, Huntington Beach, CA
Thank you so much for making me a better hypnotist! I was very impressed by the level of organization and spirit of professionalism. The quality of the education and training is truly exceptional. This course is highly recommended and should be required as part of the advanced training of all aspiring hypnotherapist." Scott Pearlman, M.D., New York, NY
The course was awesome; the systematic way 5-PATH® is put together is very well designed. Any true practitioner in helping and healing arts (especially hypnosis) will make quantum leaps in success." Thomas N. Taylor, Nixa, MO
Here is an overview of the 5-PATH® process.
Preparation, Testing and Convincing Phase

Age Regression Phase

Forgiveness of Others

Forgiveness of Self

Parts Mediation
Your Will Learn a Virtually Universal Approach To Addictions, Emotional Issues, and More.
Since the Center was opened we have performed over 32,000 individual one-on-one hypnosis sessions. Out of this experience came a process that we call 5-PATH®. Now you can gain for that extensive experience like so many around the world have, AND save $300.00 during this "Economic Stimulus Package". This opportunity will end without notice.
Click Here now to Get ALL THE DETAILS and get your 5-PATH® 2.0 set during this exciting sale!