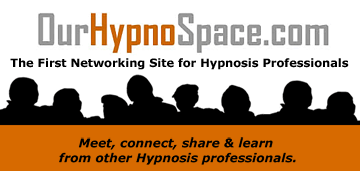 At last, after months of research and implementation the newest version of the world's first social and professional networking site, www.OurHypnoSpace.com 2.0 has been launched.
Current members need to go there right away and learn what you need to do so that you can transfer you old blog entries, photos, and videos to the new site.
New members and old are going to be excited about the new site!
More professional networking platform.

Easier to use & more reliable.

Live text/audio/video chat.

Better setup for creating and managing groups.

Forum for member interaction in addition to groups.

No unauthorized advertising or promotion.

No anonymous members or posting.

All around more professional experience.
NOTE: We are currently conducting the transition.
This means that for the next few days if you go to www.OurHypnoSpace.com you may end up on the old site. So for the time being use this link to go THE NEW SITE, http://72.167.29.121. On about March 11th, the transition will be complete and the new site will use, www.OurHypnoSpace.com.
Advantages of becoming a member of the NEW SITE right away:
You get to get your choice of user names before the one you want is selected by someone else.

You get to give us early feedback that helps us determine how we set up the site.

Heck, it is always fun to be among the first!
That is it for now. Go to http://72.167.29.121 and get your new membership!
See you on the live video chat!