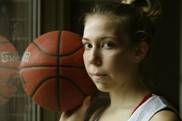 NEWS FLASH: As you know, I like to pass along interesting hypno-news articles as I come across them. This hypnosis and sports related article was published on a New Jersey website. The article reports that "College hoops star has found a way to triumph over arthritis."
In this article reporter Jenny Vrentas/The Star-Ledger, reports "Dani Dudek, a 22-year-old senior point guard at Stevens Institute of Technology, uses self-hypnosis to help overcome the pain of arthritis she has lived with for 12 years."
Read more hypnosis news articles…
If you learn of an interesting hypnosis related news article please send it to me and I'll post it here and on www.Hypnosis.ORG.